There are many ways to soak in sensational views of the Great Smoky Mountains. Two of our favorite attractions make it easy to experience nature's grandeur: Gatlinburg SkyLift Park and Anakeesta. But which of these two Smoky Mountain chairlift attractions is best? It all depends on what you're looking for.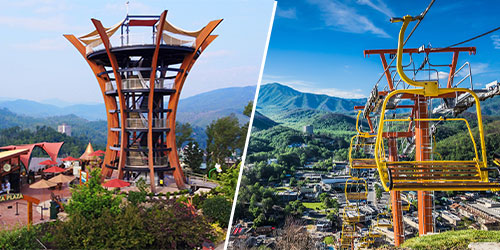 Anakeesta vs Skylift
SkyLift Park and Anakeesta are both chairlift attractions in the Great Smoky Mountains. You'll find both in downtown Gatlinburg. The lifts at Anakeesta and SkyLift Park can take you soaring over treetops to bask in breathtaking mountain scenes. Additionally, there's more to the SkyLift Park and Anakeesta than just the lifts and views. Both are true destinations with food, drinks, activities, and special events. Simply put, you can't go wrong when you choose to visit Anakeesta or SkyLift Park.
Anakeesta vs Skylift: How Are They Different?
There are a few differences between SkyLift Park and Anakeesta. Let's look at how the two Gatlinburg theme parks vary. Of course, SkyLift Park and Anakeesta are different attractions with a few key variances.
Gatlinburg SkyLift Park
Looking for a thrill? You might prefer to spend a few hours at Gatlinburg SkyLift Park. In addition to the SkyLift chairlift, you'll find a few other attractions that might get your adrenaline pumping. Gatlinburg SkyLift Park is home to a glass-floored cable bridge connected to an elevated boardwalk, a tower with panoramic views, and a shopping center.
Gatlinburg SkyLift
Gatlinburg SkyBridge
SkyBridge, SkyTrail & SkyCenter
SkyBridge is the longest cable bridge in the U.S. and spans 680 feet through the skies. The bridge is 5 feet wide and features a 30-foot glass portion in the middle so you can take in 360-degree views of the Smokies. SkyTrail lets you take a 0.3 mile hike through the mountains on an elevated wooden boardwalk. It connects both ends of the SkyBridge and provides interpretive information about the 2016 wildfires that changed the face of the Smokies and more.
Tulip Tower is located along the SkyTrail and lets you climb up 70 feet to take in panoramic views of the surrounding mountains. Other attractions at SkyLift Park include the SkyCenter where you can enjoy great food and drink, as well as the SkyDeck where you can sit back and relax while taking in Smoky Mountain views you won't find anywhere else.
Anakeesta
Anakeesta is a true Smoky Mountain theme park. You might enjoy spending a whole day here as there is so much for the whole family to enjoy. The star attraction at Anakeesta might be the Chondola, a lift that takes you over the Great Smoky Mountains. You can choose to ride an open-air lift chair with room for 4 or in an enclosed gondola cabin with room for 6.
Anakeesta
If you have a fear of heights and want to avoid a ride over the treetops, you might prefer a ride on the Ridge Rambler. This rugged passenger vehicle features an open-air ride to the Anakeesta summit. It might be a better option if fear of heights keeps you grounded.
Things To Do At Anakeesta
Other attractions at Anakeesta include the Treetop Skywalk - a series of connected hanging bridges offering mountain views, the Dueling Zipline Adventure, the TreeVenture Challenge Course, Rail Runner Mountain Coaster, gem mining, the BearVenture Challenge Course, Treehouse Villiage Play Area, Splash Pad and more. In addition to these can't-miss attractions, you'll also find fun dining options ranging from the Snack Shack to food trucks to adults-only beverages.
Which is Best for Me: SkyLift Park vs Anakeesta
There is so much to enjoy at both SkyLift Park and Anakeesta. The best option for you simply depends on your preferences! If you have a fixed schedule and want an adventure that spans a few hours, a visit to SkyLift Park might be just what you need. If you have time to kill and little ones to entertain, Anakeesta might be the choice for you. Here's another option: Consider making both SkyLift Park and Anakeesta part of your next Smoky Mountain vacation! Find Anakeesta pricing and Gatlinburg SkyLift Park pricing on their websites.