Andrews Bald is double peak mountain just south of Clingmans Dome. The bald is the highest of its kind in the national park; the grassy viewpoint sits an elevation of 5,950 feet - over a mile above sea level. It's a popular hiking destination especially from Clingmans Dome, making it a fairly easy 1.8 mile hike on Forney Ridge Trail.
Andrews Bald: History
According to George McCoy's Guide to the Great Smoky Mountains National Park, the bald is most likely named after Andres Thompson, an early settler and hunter of the area. A cabin used to stand on the southwest slope of the bald in the late 19th century. This land apparently belonged to Andres Thompson, and he likely took up seasonal residence on this grassy area of Forney Ridge. U.S. Geological Survey gave it its official title in 1932. They likely just misspelled Thompson's name.
The origin of the name Andrews Bald has long been a subject of confusion. In 1852, Andres Thompson purchased a tract of land on Forney Ridge which included the bald. Although there is no written instance of its occurrence, the mountaineers in this part of the Smokies during Thompson's time probably referred to the bald informally as Andres's Bald.Hiking Trails of the Great Smoky Mountains by Ken Wise (2014)
Hiking To Andrews Bald
The easiest and most popular way to reach Andrews Bald is from Clingmans Dome. Just to the left of the trailhead for the 0.5 mile hike up to the observation tower is the downhill rocky start of Forney Ridge Trail. You'll find that the first mile of this hike includes lots of carefully placed rocks and wooden steps. Anyone who's ever been on the AT might recognize how much newer these structures look than the worn steps along the Appalachian Trail or similar trails.
Trails Forever Renovations
Most of these helpful stepping stones and wooden stairs were put in place in 2010 as part of a Trails Forever reconstruction project headed by Friends Of The Smokies. Much of this part of Forney Ridge was damaged from erosion, and as visitors tried to find their way around puddles and trenches, the area surrounding it had become damaged as well. Crews installed drainage structures, built wooden and rock staircases, and added elevated plank walkways and turnpikes.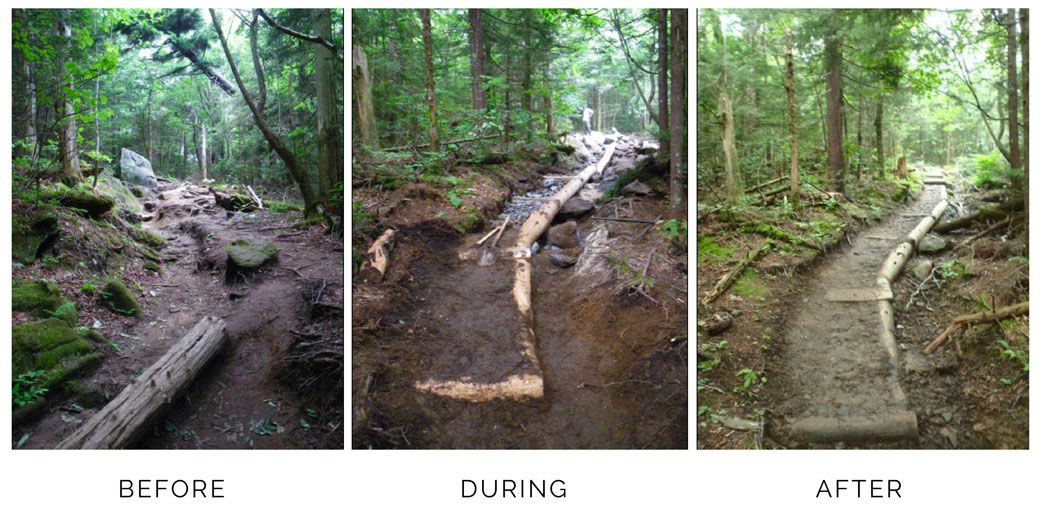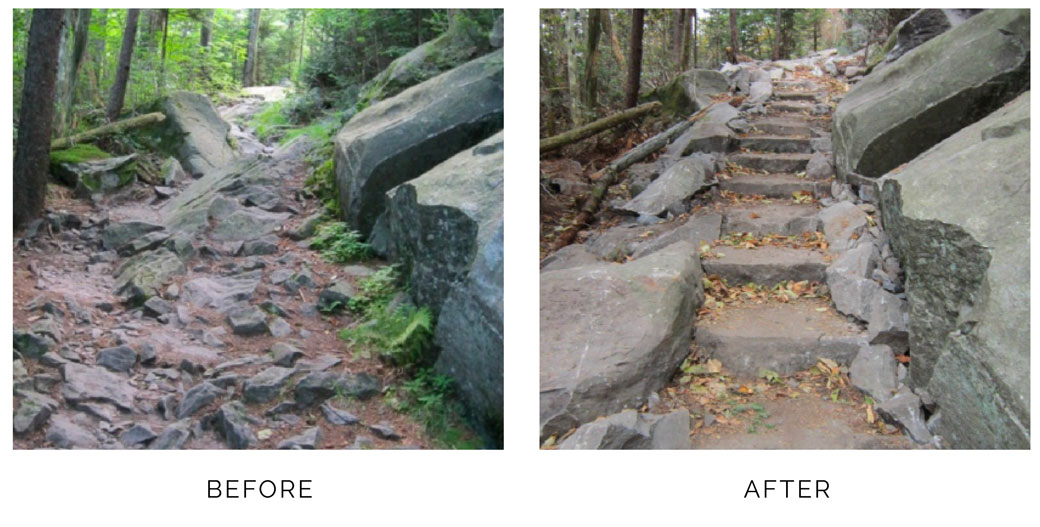 See more of the incredible accomplishments from Friends Of The Smokies and the Trails Forever project on their website. Trail crews have made outstanding improvements to popular trails like Alum Cave and Chimney Tops.
Forney Ridge Trail
After just over a mile you'll find the intersection with Forney Creek Trail leading toward Jonas Creek and Lakeshore Trails. Continue straight on for 0.7 miles to reach Andrews Bald. This portion of Forney Ridge Trail is just lovely. With only a moderate incline for part of the hike, it feels very much like a walk in the woods. There's plenty of nature to appreciate. Red spruce and Fraser firs reach high into the sky providing lots of shade for the many shades of green covering the rocky and rooty forest floor.
October 17, 2020
Old Growth Forest
Unfortunately most of the native fir trees have died from an infestation of sap-sucking insects called balsam woolly adelgid, a European native accidentally introduced to eastern North America in the early 20th century. Before the infestation this section of the park was one of the best examples of old-growth virgin spruce fir in the park. It was further damaged in 1925 when a fire broke out from careless timber cutting. Even with all the damage the area has sustained, the trail is sort of breathtaking.
Scenic Views From The Bald
Finally you'll reach one long walking plank that passes by this "scenic view" sign. You'll catch a glimpse of the trees opening into a grassy meadow. Follow the path and you'll find yourself atop of Andrews Bald. The best time of year to make this hike is probably in the springtime; you'll find beautiful green grass and bright flame azaleas. However, no matter what time of year, if you visit the bald on a clear day you'll be rewarded with outstanding views of the surrounding mountains and so much more.
Views in summer
Views in mid-autumn (October 2020)
The Hike Back To Clingmans
Remember how this hike started off downhill? For the better part of the last mile back to Clingmans Dome you will be climbing up those rocks you so easily hopped down on the first trek. It might be the only reason the roundtrip hike is generally rated as moderate instead of truly easy. However, it's completely doable for most younger kids - even if you need to take a few breaks along the way.
For more reading and information on the Great Smoky Mountains and its wonderful collection of trails, check out our guide to hiking in the Smokies. Are you an avid hiker with great photography skills? Give us a shout on Facebook if you're interested in sharing your photos.
Caroline's GSM Hike Log