You'll find tons of pet friendly lodging in Pigeon Forge as people love to travel with their dogs. But are dogs allowed in the Smokies? The simple answer is yes, but only in designated areas. Here's what you need to know about bringing your dog to the Smoky Mountains.
Can I hike with my dog in the Smoky Mountains?
You'll find only two dog friendly trails in the Great Smoky Mountain National Park: the Gatlinburg Trail and the Oconaluftee Trail. Both short walking paths allow you to hike with your dog in the Smokies. The Oconaluftee Trail is a 1.5 mile one-way trail that starts at the Oconaluftee Visitor Center. You'll walk along the outskirts of Cherokee, N.C. It has a few small hills and promises views of the Oconaluftee River.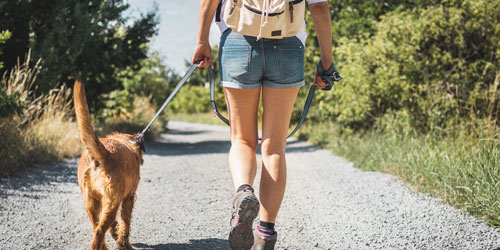 Leashed Dogs Only
Before you and Rover lace up your hiking shoes, you'll need to know the following: Your dog will need to be kept on a leash no longer than six feet at all times when you're in the Smoky Mountains. You are required to pick up and properly dispose of all pet waste while you're in the park. Simply bag it up and toss it in a bear proof trash receptacle.
NPS Information
Where are dogs allowed in the Smokies?
Good news! Leashed dogs are allowed in picnic areas, campgrounds and along roadways in the Great Smoky Mountains National Park. But do not bring your dog to any other parts of the national park. You could get a ticket and fine from park ranger. Dogs are not allowed in the park for a handful of reasons, many of which are in place to protect you and your pet. Some of these reasons are listed below.
Wildlife in the park could transfer diseases to your dog.
Your dog could become prey to large animals in the Smoky Mountains like coyotes and bears.
Barking could disturb the tranquility of the park.
It is also important to note that pets are allowed in the many Tennessee state parks around the Great Smoky Mountains. Ready to make your dog part of your Smoky Mountain vacation? Explore pet friendly lodging in Pigeon Forge and plan your getaway today!