We're always told to reach for the stars, but what if the stars could reach for us? Astra Lumina is part of the latest expansion at Anakeesta in Gatlinburg that lets you experience the night sky light never before. This one-of-a-kind celestial journey is one of the coolest things to do at Anakeesta at night. You can catch it on the weekends in January and February or any day of the week starting in March.
Astra Lumina at Anakeesta
This special nighttime attraction is part of the Lumina Enchanted Night Walk series created by Moment Factory, an international creative studio. Anakeesta's Astra Lumina is the 15th in the series of unique outdoor immersive experiences and the first in the US. Other night walks have been created in places like Canada, Japan, Singapore and France. The goal of the luminous journey is to reveal the exceptional beauty of a natural site.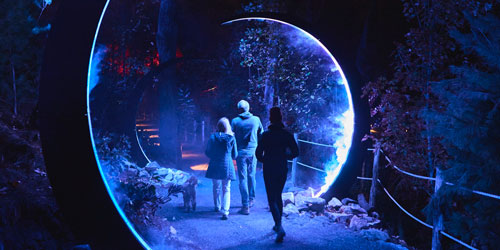 What Is Astra Lumina?
In simple terms, Astra Lumina is an immersive light show that visitors can enjoy by walking through it at night. The lights and sounds are seamlessly integrated in an artistic way that sparks imagination and emotion. The innovative transformation of the area establishes a "second identity" of the space. As you walk, you'll feel as if the stars are decending from the night sky.
Set off across mysterious observatory grounds to discover a celestial pathway of lustrious light, cosmic visions, and astral song. Immerse yourself in illuminating encounters of lighting, projection and sound, and connect with the stars before they return to the sky above.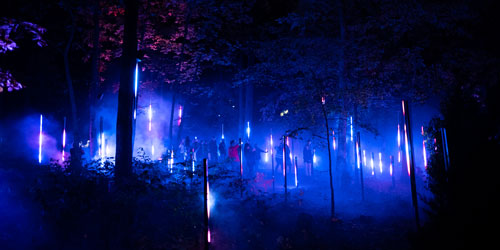 Tickets & More
Because of its specific nature, Astra Lumina is of course a nighttime-only experience. You can purchase a special combo ticket and visit Anakeesta during the day, watch the sunset from the patio of the Smokehouse Restaurant, and saunter over to the glowing entrance upon nightfall. Tickets are priced differently among adults, children and senior citizens aged 60 and over.
Tickets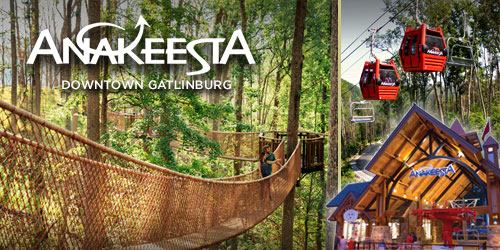 Anakeesta
This intriguing night walk is not the only thing you can enjoy at Anakeesta! The mountaintop theme park in Gatlinburg offers attractions of all types for all ages. Take the chondola ride to the top of this iconic spot and admire the incredible view. Check out our list of the top 10 things to do at Anakeesta.
Anakeesta