Book
American Patriot Getaways
American Patriot Getaways
2519 Sand Pike Blvd, Pigeon Forge, TN 37863 | (855) 563-7800 | patriotgetaways.com
Cabin Rentals
Overview
If you are looking for great Gatlinburg cabins and Pigeon Forge cabins, you've come to the right place! With over 400 incredible properties, famously great prices and outstanding customer service, American Patriot Getaways is the most trusted resource for Pigeon Forge and Gatlinburg cabin rentals.
American Patriot Getaways is the area's leader in providing quality chalet and cabin rentals in Gatlinburg and Pigeon Forge TN. With 400 unique properties to choose from you're guaranteed to find the perfect log cabin home or chalet for your next Smoky Mountain getaway. From romantic one bedroom honeymoon retreats to sprawling 13 bedroom mountain estates – American Patriot Getaways has the perfect home for your vacation plans and budget.
Whether you're planning a anniversary celebration, girls weekend, getting some friends together for the "big game",  or even coordinating a family reunion – American Patriot Getaways has the lodging solution you. Many of our cabin rentals and chalets include such amenities as: incredible mountain views, pool tables, game rooms, hot tubs, fireplaces, community swimming pools, and even theater rooms for your enjoyment.   Our properties accommodate from 2 to 44 guests, and for larger groups- we offer the option of reserving multiple, neighboring properties.
If you've been searching for that perfect Smoky Mountain getaway then give us a call and let us help!  We've got what you're looking for at American Patriot Getaways.
To plan your getaway, visit us, and view our luxury mountain cabins on our website or give us a call at 1-855-563-7800. Our dedicated reservationists have to tools to help narrow your search for the perfect Gatlinburg or Pigeon Forge cabin. We will not be undersold and maintain a price match guaranty!
American Patriot Getaways loves our guests and they love us too.  Once you stay in one of our luxury Gatlinburg or Pigeon Forge cabins you'll never want to stay anywhere else in the Smokies.  Just listen to what this past guest had to say:
Come stay with American Patriot Getaways in the Smokies where we are: "Creating guests for life by providing the experience of a lifetime for our guests."
Visit us at patriotgetaways.com, or call 1-855-563-7800.
Reviews
I have been coming to the GSM for years and by far the best experience we have had in Tennessee in all those years. We have stayed in campsites, hotels, motels, and other rental cabins all around the GSM (Great Smoky Mountains). However, the quality of our stay in this cabin was an A+ and we will be recommending APG to everyone. Our family will not think about coming back to the area unless we call APG first.
- Karen B
Photo Gallery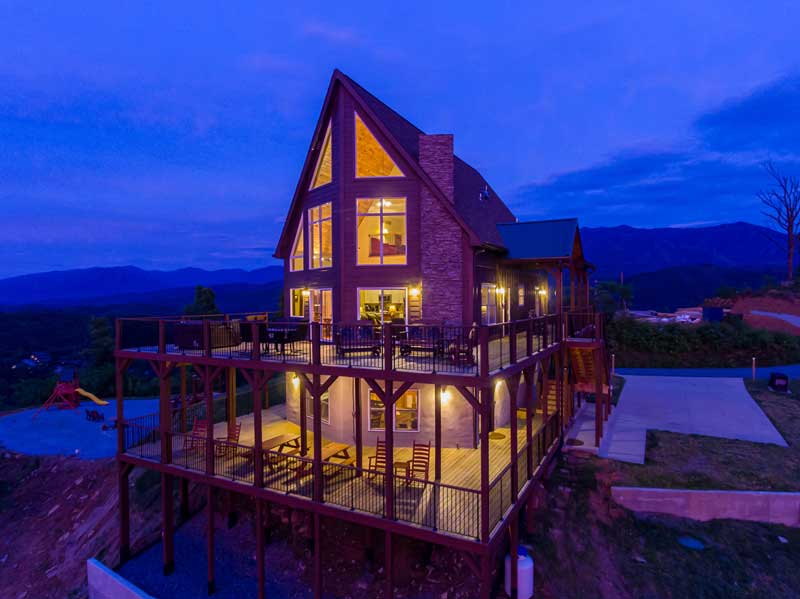 Featured Blogs
Dec 12, 2019
Out On A Limb: Treehouse Cabin Rentals In The Smoky Mountains
When you were a kid, did you ever dream of living in a treehouse someday, high above the ground and away from ...
Read This Post
Mar 28, 2019
6 Spectacular Cabin Rentals With Unique Amenities
From moon roofs and mountain views to basketball courts and arcades, Pigeon Forge cabin rentals come with a va...
Read This Post
Location
American Patriot Getaways
2519 Sand Pike Blvd Pigeon Forge, TN 37863