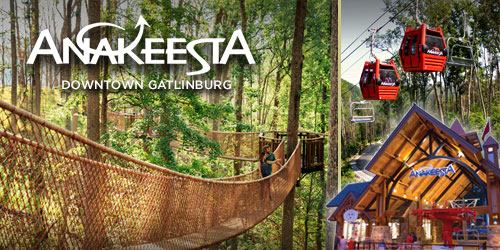 Anakeesta
576 Parkway, Gatlinburg, TN 37738 | (865) 214-6703 | anakeesta.com
Attractions, Mountain Coaster, Outdoor Attractions, Zipline
Overview
Immerse yourself in the beauty and adventure of the great outdoors at Anakeesta.
Located in the heart of the Smoky Mountains, our mountain top theme park sits high atop Gatlinburg with spectacular views of town and National Park. With elements of play and adventure, we mix relaxation and delicious dining options to create a memorable experience in for families and friends: day or night.
Admission to Anakeesta includes all day park access and unlimited scenic rides via our Chondola chair lift ride which transports you to our whimsical Firefly Village with quaint shopping, and dining. Enjoy unlimited rides on the Ridge Rambler adventure truck for a forest excursion to the top of Anakeesta Summit, you just might catch a glimpse of a black bear, sasquatch, or even an elusive bobcat!
Stroll along the mountaintop to our nature-themed Black Bear Village. After shopping, take in the elevated dining experience at Cliff Top with gorgeous views of the Great Smoky Mountains.
Continue your adventure by strolling on the TreeTop Skywalk, with over 800-feet of connected bridges hanging 50 to 60-feet in the air, the TreeTop Skywalk is the longest tree-based skywalk bridge in North America. Enjoy the sweeping views of the Great Smoky Mountains, and Mt. LeConte, with a trip up our AnaVista Tower, the highest point in downtown Gatlinburg! This one of a kind structure provides guests with 360-degree views of mountains as far away as Kentucky and a different perspective to the park with lush botanical Vista Gardens 60 feet below!
Home to over 10,000 flowering plants, be sure to head over to our "keeper of the forest" Willow, who stands more than 20′ tall. Meander over to TreeVenture nestled in the treetops of Vista Gardens. Climb, crawl and slide your way through this interactive challenge course for all ages to enjoy! Then relax with a refreshing beverage or healthy snack from the Watering Can, located in Vista Plaza.
Now Open: Join us for Astra Lumina, an enchanted night walk through the woods where the stars are descending from the night sky, right here at Anakeesta! Experience their wonder up close, before they return to their rightful home. Astra Lumina is the 15th Lumina experience, and the very first in the United States!
Reviews
Very beautiful and great atmosphere has a lot of beautiful Scenery. Loved everything about the experience. Would recommend it to anyone.
- Angie W.
This was excellent for the price. The kids enjoyed the rail runner and the lines weren't long at all. The walk among the trees was so worth it. We loved the little shops and the cliff top grill offered excellent food. Overall we had a wonderful day and we will definitely be going back.
- Samantha W.
Worth every penny and some more. Great organization and entertainment. Once on top, there is so much more than you expect.
- Cornelis M.
Map Of Anakeesta Grounds
Photo Gallery
Upcoming Events
Breakfast With Santa
Santa Claus is coming to town! Join us at Anakeesta for a delightfully enchanted breakfast this winter season with a very special guest, Santa Claus himself! This wonderful brea...
Event Information
Awards