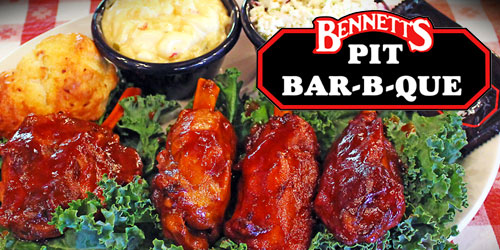 Bennett's Pit Bar-B-Que
Multiple Locations | (865) 429-2200 | bennetts-bbq.com
Johnson Family, Restaurants, Steak & BBQ
Overview
Our pit master smokes ribs, chicken, sausage, beef and pork to make it mouthwatering. Located in the heart of Pigeon Forge. This is Bruce Johnson's first restaurant in Pigeon Forge which began over 30 years ago, and it remains family owned and operated.
Ribs, chicken, pork, and beef brisket all roast at approx. 220 degrees until it develops a great caramelized bark. Basted in secret sauce, their meats are voted best barbecue by locals and tourists year after year. Plenty of outdoor seating if you want to enjoy the weather. Bennett's location in Gatlinburg has a full bar, so you can relax and enjoy your evening.
Lots of people opt to use Bennett's for picnic family packs to take to the Smoky Mountains for a day of fun. Bennett's also offers catering and dine-in options for large groups. A fantastic Pigeon Forge tradition… this place has something for everyone.
Photo Gallery