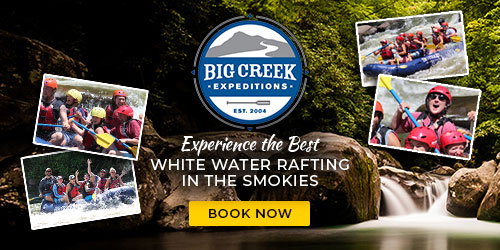 Big Creek Expeditions
3671 Hartford Road, Hartford, TN 37753 | (877) 642-7238 | bigcreekexpeditions.com
Attractions, Outdoor Attractions, Rafting
Overview
Big Creek Expeditions was founded by Owner / Operator Jon Felderman in 2004. We are a whitewater rafting company just a quick drive from Gatlinburg, Pigeon Forge, and Sevierville. Big Creek Expeditions offers thrilling whitewater adventures and scenic float trips on the Pigeon River in Hartford, TN. No experience necessary! We pride ourselves on having a professional and experienced staff that will provide you with life-long memories.
If you have a thirst for adventure and have dreamed of paddling down a river with your friends, family, or group through the Smoky Mountains, this is the trip for you. Experience the Great Smoky Mountains in a whole new way, with panoramic views of ancient mountains, thrilling rapids that will leave you soaking wet, and an immersive experience that will keep you smiling from ear to ear.
If you are traveling to the Smoky Mountains and want to go rafting in Tennessee, but have children between the ages of 3 and 7 or are looking for a mild (but stunning!) river experience, the Scenic Float trip is for you. Expect gorgeous mountain views, splash, swim, and sight-see, sit back, and relax while soaking up the sun as our guides navigate you down the most scenic stretch of river in the Great Smoky Mountains area.
Want to save more money AND experience more adventures in the Smoky Mountains? Combine our Whitewater Rafting trip and Scenic Float trip for a full day river adventure of splashes, laughter, and memories to last a lifetime. You can also combine any of our rafting expeditions with Legacy Mountain Ziplines, Adventure Park Ziplines, Five Oaks Riding Stables, and Xtreme Racing to get the most out of your vacation. We offer discounts from $10 – $57 off depending on the package you choose!
Photo Gallery
Location
Big Creek Expeditions
3671 Hartford Road Hartford, TN 37753