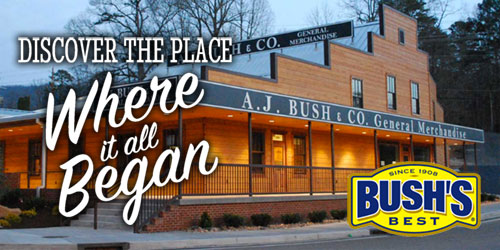 Bush's Visitor Center
3901 U.S. 411, Dandridge, TN 37725 | (865) 509-3077 | bushbeans.com
Attractions, Indoor Attractions, Museums
Overview
The relaxing short drive to Chestnut Hill, TN is filled with mountain history and scenic countryside. Kids love the interactive museum. Savor the simple flavors of country life.
Discover the place where it all began. Discover the legacy that made Bush's what it is today. And it's all housed in the original A.J. Bush & Company general store founded in 1897. The interactive museum is first class. Kids love the multimedia experiences in the bean can. The relaxing drive to Chestnut Hill, TN is postcard perfect mountain splendor. Savor homemade mountain recipes, southern specialties and even bean desserts! Make sure you try our pinto bean pie.
The old-fashioned General Store features beautiful gifts with chic country flair. Elegant flour sack dishtowels, rustic home decor, quilts and fine craft items. Marvel at the wide assortment of candy and Jay and Duke memorabilia.
Photo Gallery
Location
Bush's Visitor Center
3901 U.S. 411 Dandridge, TN 37725