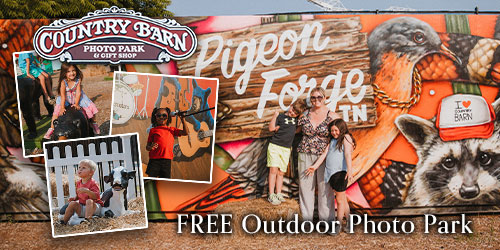 Country Barn Photo Park & Gift Shop
2869 Parkway, Pigeon Forge, TN 37863 | (865) 365-1162 | countrybarngiftshop.com
Attractions
Overview
Discover the charm of the Great Smoky Mountains at the Country Barn Photo Park & Gift Shop, a must-visit destination located in the heart of Pigeon Forge, Tennessee. This unique attraction effortlessly blends retail therapy with art and nature, promising a delightful experience for individuals and families alike.
As you step into the Country Barn Photo Park & Gift Shop, you're greeted by a vast collection of souvenirs, handmade crafts, and delightful gifts, making it the perfect spot to find something special for everyone. Each item in the shop tells a story of the region's rich heritage, ensuring that you take a piece of Pigeon Forge home with you.
However, the true jewel of the Country Barn experience is the extraordinary Photo Park. The park showcases an array of captivating murals painted by talented local artists, bringing walls to life with depictions of cultural icons and stunning wildlife. As you stroll through the park, gaze at the remarkable Bigfoot mural, evoking the mysteries of the Smoky Mountains. Interact with cut-out murals showcasing everything from the local flair of the Smokys to the out of this world. Sports fans will delight in the mural of the football players from Vanderbuilt and University of Tennessee, while nature lovers can marvel at the vivid portrayals of wild animals in their natural habitat. Each mural stands as a testament to the vibrant culture and natural beauty that define Pigeon Forge and its surroundings.
The photo opportunities are endless at the Country Barn Photo Park & Gift Shop. Capture unforgettable memories against the backdrop of these spectacular murals, creating lasting mementos of your trip to Pigeon Forge. The park is an instagrammable haven, ensuring your photos will garner admiration from friends and followers alike.
Experience the soul of Pigeon Forge at the Country Barn Photo Park & Gift Shop. Beyond the art and shopping, you're embracing the community spirit that makes this mountain town a beloved destination. Visit today and create cherished memories amidst the beauty and creativity of the Smoky Mountains.
Photo Gallery
Featured Blogs
Sep 30, 2023
Cheap Things To Do In Pigeon Forge & Gatlinburg: $20 Or Less
There are plenty of cheap things to in Pigeon Forge and Gatlinburg if you do your homework. We know everyone's...
Read This Post
Oct 2, 2023
Where To Take The Best Fall Photos in Pigeon Forge & The Smokies
It's our favorite time of year in the Smoky Mountains. The colors are changing and there's a brand new crisp i...
Read This Post
Oct 14, 2019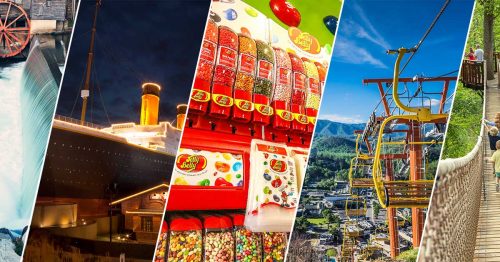 22 Most Instagrammable Places In The Smokies
Who doesn't love a good photo op? Pigeon Forge, Gatlinburg, and the nearby Great Smoky Mountains National Park...
Read This Post
Apr 18, 2023
Free Things To Do In Pigeon Forge
Free things to do in Pigeon Forge are great activities for the family. Smoky Mountain memories that last a lif...
Read This Post
Location
Country Barn Photo Park & Gift Shop
2869 Parkway Pigeon Forge, TN 37863