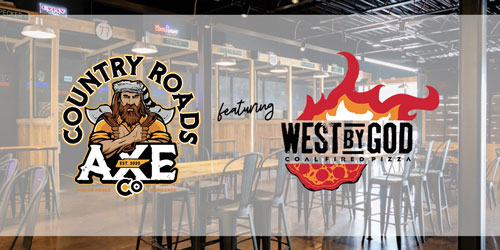 Country Roads Axe Co.
137 E Wears Valley Rd, Pigeon Forge, TN 37863 | (865) 366-4555 | countryroadsaxeco.com
Alcohol, Attractions, Axe Throwing, Indoor Attractions, Pizza, Restaurants
Overview
Country Roads Axe Co. is the hottest and most technologically advanced family entertainment venue in Pigeon Forge! Our never-before-seen axe throwing experience features real axes and ninja stars, projected targets, full-service bar, iPourIt's self-serve adult beverage system, and West by God CoalFired Pizza's full-service restaurant.
Three concepts, ONE ROOF! Our country road themed, 7,500 square foot space brings all these unique features together as one creating an experience unlike any other in the Smoky Mountains.
What's the best part? We welcome guests of ALL AGES to experience the Country Roads Axe Co. Difference! That's right, your family vacation just got even more AXEciting with the hot craze of axe throwing, "Coal Kissed" cuisine, and the "Coolest Beer in Pigeon Forge."
Reviews
First time axe throwing. Anthony got us all trained up and made sure we were doing good the whole time. Very cool guy. The projection screens and game selections were awesome. The beer selection was fantastic. The pizza and pepperoni rolls were on point, too!
- Josh Mason
Holly our waitress was great! The pizza was amazing. My wife and I stumbled on this little gem our last night in pigeon forge, while looking for pizza not of our home flavors. Neither of us had ever thrown an axe before so we figured what the hey. Holly showed use how to throw the various items to choose from. Then set the timer and let us have at it. She would check in on us from time to time to see if we needed anything.  It was a lot of fun and the food was excellent. Thanks again Holly and the entire crew for make our last night of vacation memorable.
- William Ballenger
Best restaurant experience in pigeon forge. By far the best pizza ever. The bacon jam is to die for… staff and brewery selection is the best around. If I could give it 10 stars, I would! Thank you Anthony for being the best server ever!
- Chris Buis
We came to pigeon forge for a weekend get away and stumbled across this place. It's a Great place to hang out, throw some axes, and eat good food. I was very skeptical at first and didn't think I'd care much for it, but I was wrong. Me and my hubby had a great time learning how to throw axes and then competing against each other on the different game styles. Our coach was awesome! She was super friendly and helpful. Would highly recommend this place to anyone.
- Kristi Thacker
Best axe throwing in town, no question. Better boards, better games and a beer wall! What more could you want?
- Heather Barnett
Excellent Service. Staff was helpful, and patient. We had a large group of people with many different degrees of excitement at wielding an ax for fun! Plus the tap garden was a hit with everyone. Recommend this place. It's a hidden gem with a lot to offer.
- Sally Ann
Photo Gallery
Location
Country Roads Axe Co.
137 E Wears Valley Rd Pigeon Forge, TN 37863
(865) 366-4555