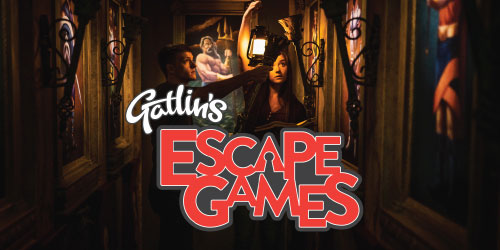 Gatlin's Escape Games
Multiple Locations | (865) 412-8574 | gatlinsescapegames.com
Attractions, Escape Rooms
Overview
Work together in a 60-minute race against the clock to escape one of our five highly immersive Escape Rooms! Solve puzzles, conquer challenges, while experiencing adrenaline pumping surprises around every corner.
Select your adventure, choosing between The Legend of Atlantis, Moonshine Hill Hootenanny, The Haunting of Hyde House, Masters of Magic, or new for 2021, The Curse of Kraken's Eye. From haunted to comical, to fantastical and epic, Gatlin's offers an unforgettable escape experience.
Our escape rooms are beloved by both the escape game enthusiast, as well as by anyone looking for something new and exciting to do with their friends or family!
Now it's your turn to select your adventure and attempt to escape:
The Legend of Atlantis: An epic, story-driven journey that puts you in an Indiana Jones adventure, full of Hollywood-quality set pieces with special effects.
Masters of Magic: Enter into the Realm of Illusions, a mystic venue known as the "other side of magic," where truly powerful magic takes place. Only those possessing magical abilities are selected to partake in a special magician's challenge. Those that succeed will become part of a select group — the Masters of Magic.
The Haunting of the Hyde House: Abandoned by your tour guide, you'll become trapped in Hyde House and discover you are not alone. Little Isabella haunts the mansion, playing games and leaving puzzles to lead you to her most cherished friend, her doll Emma. With your help, she may have hope at last!
Moonshine Hill Hootenanny: Small Paw Sampson ain't havin' no part of Big Maw Bertha's hootenanny tonight for her secret 'shine recipe, so you'll hafta be crafty to break into Maw's shack and blow her 'shine still to smithereens!
Curse of the Kraken's Eye: Your team will enter Captain Blackheart's ship and come face-to-face with his devious devices. Through the prison room, cannon armory, and captain's quarters, you will race against the clock to solve the captain's tricks. Succeed, and you will earn the Kraken's Eye and save your town. Fail, and you'll become a permanent crewman aboard the Siren's Fury.
Photo Gallery
Featured Blogs
Oct 14, 2015
The 4 Best Reasons To Try A Gatlinburg Escape Room
We know you're looking forward to vacationing in Gatlinburg. You want to experience the local attractions, eat...
Read This Post