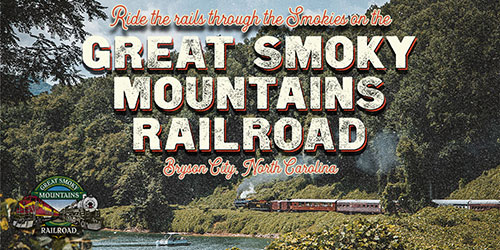 Great Smoky Mountains Railroad
226 Everett Street, Bryson City, NC 28713 | (800) 872-4681 | gsmr.com
Attractions
Overview
Train excursions in the nearby forests of North Carolina. The most relaxing way to explore Appalachian beauty and experience small town charms. Imagine the era when small town folks traveled by rail.
The most beautiful landscapes in America can be see on this excursion. Marvel at small towns, rushing rivers, ancient mountains, and peaceful scenery. Bryson City is located on the edge of Great Smoky Mountains National Park. The historic charm of this train delights all who board. Discover the transformation of mountain folks during a time when their railroads transported them from pristine wilderness to the big city.
Photo Gallery
Upcoming Events
Bunny Hopper Express
The Bunny Hopper Express Easter Train offers a four-and-a-half-hour, round trip train excursion from the historic Bryson City Depot along the scenic Nantahala Gorge River. Easter t...
Event Information
Location
Great Smoky Mountains Railroad
226 Everett Street Bryson City, NC 28713