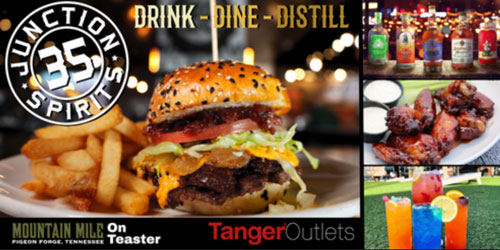 Junction 35 Spirits
2655 Teaster Ln Suite 280, Pigeon Forge, TN 37863 | (865) 365-1019 | junction35spirits.com
Distilleries, Moonshine, Restaurants, Steak & BBQ
Overview
Straight from the hills of The Smoky Mountains, Junction 35 Spirits brings a long-time family tradition to the public. Our rich local history of making and running spirits converging with the innovation of our Master Distiller has brought together a taste like no other. Just like the railroad, Junction 35 Spirits will deliver the very best products every time.
At Junction 35 Spirits our mission is to deliver the finest, one-of-a-kind spirits that satisfy with every sip and delectable unique signature dishes that keeps guests returning to our fun, friendly atmosphere time and time again.
Our vision for old meeting new has resulted in the creation of multiple spirits hitting the shelves at our Distillery in Pigeon Forge Tennessee. We offer a variety of premium liquors that will appeal to everyone with Junction 35 Moonshine, Junction 35 Vodka, Junction 35 Rum, Junction 35 Gin, and Junction 35 Whiskey.
Photo Gallery
Awards
Location
Junction 35 Spirits
2655 Teaster Ln Suite 280 Pigeon Forge, TN 37863