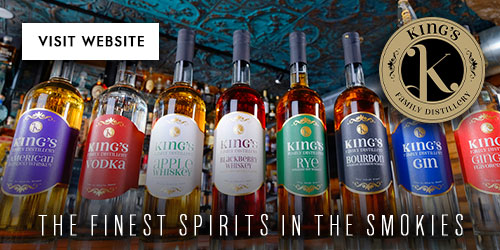 King's Family Distillery
1440 Upper Middle Creek Rd, Suite 201, Sevierville, TN 37876 | (865) 446-2002 | kingsfamilydistillery.com
Attractions, Distilleries, Moonshine
Overview
King's Family Distillery, home to the most awarded bourbon in the Smoky Mountains, just outside of Pigeon Forge, is the area's premier distillery. Husband and wife team Justin and Cara King realized their dream of creating a one-of-a-kind and top-of-the-line spirits brand in 2018 and haven't looked back. Their attention to detail, knack for innovation, and a passion for whiskey is what truly makes the KFD brand stand out among its peers. King's Family Distillery offers a wide selection of the highest quality whiskies, vodkas, and liqueurs that are sure to delight! King's Family Distillery is a must-visit when in the area.
King's Family Distillery: Dedicated to Producing Fine Liquor & Spirits
At King's Family Distillery, each ingredient for our award-winning products is hand-selected and meticulously prepared for the ideal flavor and finish. With a constant evolving selection, the King's are always creating new blends of liquors including the new Ryeconic Cherry Brandy Cask Finish. Whether enjoyed neat or in a cocktail, the spirits offered by King's Family Distillery are held to incredible quality standards; especially when offering award-winning spirits like King's Chocolate Whiskey (named best Spring flavored whiskey 2023 by Barleycorn), King's Rye Whiskey, King's Tennessee Standard Bourbon, and much more.
King's Family Distillery's Tasting Room
Guests to King's Family Distillery's tasting room can enjoy samples of all of their exceptional products. Their selection of premium spirits rotates regularly and cannot be matched anywhere else. The tasting room is open seven days a week.
Products currently available in their tasting room:
Tennessee Standard Bourbon
Ryeconic
Wheated Bourbon
Rye Whiskey
American Blended Whiskey
Single Barrel Select 16 YR Whiskey
Apple Whiskey
Vodka
Lemon Vodka
Ginger Vodka
Gin
Fancy Lady Rum
Tropical Lady Rum
Peach Whiskey
Chocolate Whiskey
Peanut Butter Cream
Photo Gallery
Featured Blogs
Sep 10, 2021
The Best Places to Get a Drink in the Smokies
You might be asking yourself, "What are the best places to get a drink near me?" Don't fret, because we've put...
Read This Post
Sep 19, 2022
Best Fall Treats In Pigeon Forge & Gatlinburg
There's something about a special seasonal treat to make autumn awesome. Pigeon Forge and Gatlinburg have plen...
Read This Post
Jan 15, 2021
Tips For Planning The Ultimate Gatlinburg Bachelor Party
Planning a Gatlinburg bachelor party? You're in luck! Pigeon Forge and Gatlinburg are packed with fun things t...
Read This Post
Awards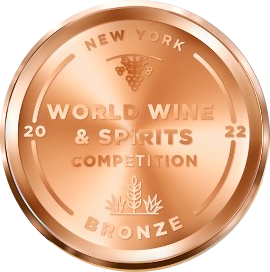 Location
King's Family Distillery
1440 Upper Middle Creek Rd, Suite 201 Sevierville, TN 37876