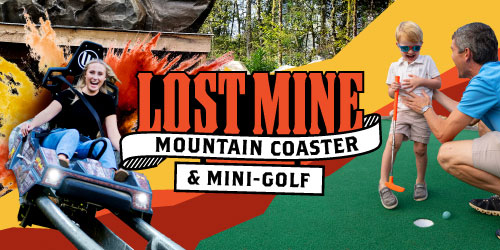 Lost Mine Mountain Coaster & Mini Golf
2509 Teaster Lane, Pigeon Forge, TN 37863 | (865) 280-0089 | lostmine.com
Attractions, Mini Golf, Mountain Coaster
Overview
Lost Mine Mountain Coaster and Mini-Golf is a rider-controlled alpine coaster and 18 hole mini-golf course with world class theming surrounding a world of bears who mine for honey. The next generation ride and safety technology make Lost Mine not only the newest mountain coaster attraction but also the best in the area. It is located in the Knoxville metropolitan area in Pigeon Forge, Tennessee, near the gateway to The Great Smoky Mountains.
Reviews
Best Mountain Coaster Around! Great new mountain coaster and mini golf course! Had a lot of fun with the family! The mini golf course was cute, yet challenging. Very well designed. And the views from the mountain coaster were beautiful. Highly recommend!
- Cory M.
This was the fastest, longest and best mountain coaster I've ever been on and I've been on a few. Don't pass up a chance for an amazing ride!
- Pioneer16848773602
The coaster was absolutely so much fun! We've done every coaster in the area & this one is the best!!! Super fast & long. Great customer service, very friendly!
- Stephanie P.
BEST COASTER/MINI PUTT-PUTT!!! The views of the fall leaves were amazing as you rode the coaster. The coaster was PERFECT!!!! So much fun and was a long coaster ride. The theming for the coaster and the putt-putt was so fun. Definitely a must do!
- Kimberly G.
Photo Gallery
Location
Lost Mine Mountain Coaster & Mini Golf
2509 Teaster Lane Pigeon Forge, TN 37863