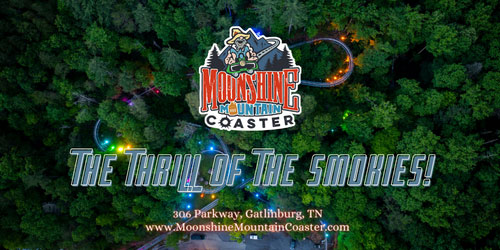 Moonshine Mountain Coaster
306 Parkway, Gatlinburg, TN 37738 | (865) 430-5577 | moonshinemountaincoaster.com
Attractions, Mountain Coaster, Outdoor Attractions
Overview
Spend your day in the Smoky Mountains and make a run on the Moonshine Mountain Coaster! As Gatlinburg's first mountain coaster, the Moonshine Mountain Coaster is a ride like no other. Enjoy the beautiful Smoky Mountain scenery on the way up and coast through the hills at speeds up to 30mph on the way down. This thrill ride features one-of-a-kind dips and turns, leaving you with memories that you can't forget! If you are feeling adventurous, join us at night to allow our magnificent light show to guide you along the track for an unforgettable mountain coaster experience!
Moonshine Mountain Coaster is open every day from 10:00 am to 10:00 pm.
Photo Gallery
Featured Blogs
Aug 5, 2019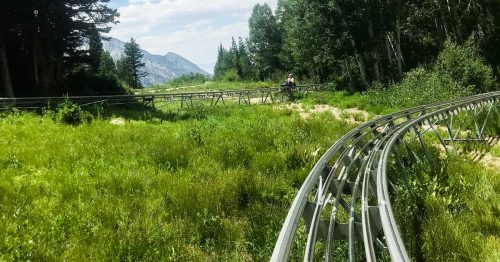 Mountain Coasters: What Are They?
Pigeon Forge mountain coasters have become increasingly popular in recent years. A ride on a Smoky Mountain c...
Read This Post
Dec 6, 2022
Pigeon Forge Christmas Gift Guide: Shop The Smokies
If you're coming through the Smokies this holiday season, consider purchasing some awesome Pigeon Forge Christ...
Read This Post
Feb 28, 2023
20 Smoky Mountain Attractions You Should Put On Your Radar
We know there's a boatload of Pigeon Forge attractions you've heard about and enjoyed on your last trip, but w...
Read This Post
Jun 8, 2020
If You Like Dollywood, You Might Also Like
We all love a great day at Dollywood and Dollywood Splash Country. The Dollywood rides are a blast, and these ...
Read This Post
Sep 30, 2023
Cheap Things To Do In Pigeon Forge & Gatlinburg: $20 Or Less
There are plenty of cheap things to in Pigeon Forge and Gatlinburg if you do your homework. We know everyone's...
Read This Post
Location
Moonshine Mountain Coaster
306 Parkway Gatlinburg, TN 37738