Moonshine Mountain Coaster
306 Parkway, Gatlinburg, TN 37738 | (865) 430-5577 | moonshinemountaincoaster.com
Attractions, Mountain Coaster, Outdoor Attractions
Overview
Moonshine Mountain Coaster (Formerly Gatlinburg Mountain Coaster) is under new ownership and management! Gatlinburg's FIRST and NEWEST mountain coaster is a safe, unique, family-friendly thrill ride that puts you in the driver's seat, literally! The single or double rider cars coast down the beautiful Smoky Mountains where you can enjoy the beautiful views at speeds up to 30 mph. You may even see a bear or two! Check out our gift shop, and purchase your ride photo and other great merchandise! Groups are welcome!
Photo Gallery
Featured Blogs
Aug 5, 2019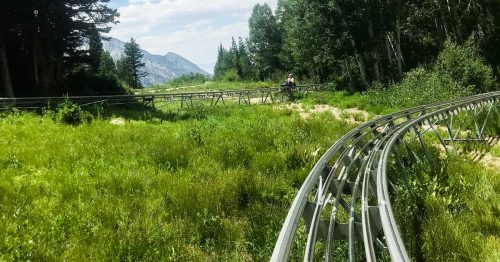 Mountain Coasters: What Are They?
Pigeon Forge mountain coasters have become increasingly popular in recent years. A ride on a Smoky Mountain c...
Read More
Jun 1, 2022
Cheap Things To Do In Pigeon Forge & Gatlinburg: $20 Or Less
There are plenty of cheap things to in Pigeon Forge and Gatlinburg if you do your homework. We know everyone's...
Read More
Location
Moonshine Mountain Coaster
306 Parkway Gatlinburg, TN 37738
(865) 430-5577