Rowdy Bear Mountain Adventure Park
2155 Parkway, Pigeon Forge, TN 37863 | (865) 409-5045 | rowdybearmountain.com
Attractions, Axe Throwing, Mountain Coaster, Outdoor Attractions, Tubing
Overview
Rowdy Bear's Smoky Mountain Snowpark is home to the largest outdoor tubing hill in Tennessee! The tubing hill is 500 feet long with a 70 foot drop and offers both snow tubing (with REAL snow!) and summer tubing. There are a total of 11 tubing lanes and two Magic Carpet Conveyors that take visitors to the top of the hill!
In addition to tubing, this Pigeon Forge attraction is home to the Ski Lift Shootout Coaster, the country's first alpine flyer! It's a two-seated suspended coaster that swings, dips, and soars through air as riders have to try to shoot the targets along the way. Rowdy Bear's Smoky Mountain Snowpark also features axe throwing, a playground, and Sugar Bears Café & Creamery.
Featured Blogs
Nov 13, 2020
Top 100 Things To Do In The Smoky Mountains
100 Things To Do in the Smoky Mountains extend beyond East Tennessee and the national park. While the Great Sm...
Read This Post
Feb 28, 2023
20 Smoky Mountain Attractions You Should Put On Your Radar
We know there's a boatload of Pigeon Forge attractions you've heard about and enjoyed on your last trip, but w...
Read This Post
Dec 14, 2019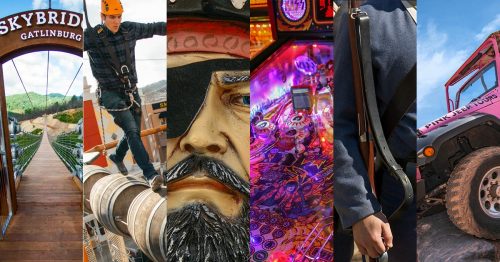 Year In Review: Top New Attractions In Pigeon Forge For 2019
The year 2019 was a big one for Pigeon Forge. Lots of great new attractions and renovations popped up througho...
Read This Post
Mar 27, 2022
25 Kid Friendly Activities In Pigeon Forge
One of the best things about Pigeon Forge is that it's a destination for fun for all ages, and perfect for kid...
Read This Post
Mar 25, 2021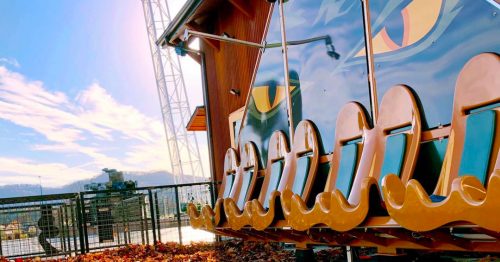 Top 10 Rides in Pigeon Forge & Gatlinburg
Rides in Pigeon Forge are not limited to the roller coasters at Dollywood. Just drive down the parkway and you...
Read This Post
Jun 8, 2020
If You Like Dollywood, You Might Also Like
We all love a great day at Dollywood and Dollywood Splash Country. The Dollywood rides are a blast, and these ...
Read This Post
Jan 13, 2020
Top New Attractions In Pigeon Forge For 2020
2020 will be one of the best years yet in Pigeon Forge and Gatlinburg. There are many new attractions and busi...
Read This Post
Awards
Location
Rowdy Bear Mountain Adventure Park
2155 Parkway Pigeon Forge, TN 37863