SkyLand Ranch
1620 Parkway, Sevierville, TN 37862 | (865) 505-7668 | skylandranch.com
Attractions, Mountain Coaster, Outdoor Attractions
Overview
SkyLand Ranch combines all your favorite things about the Smoky Mountains into one exciting Sevierville attraction. Gorgeous views, exciting rides, shops and eateries, live entertainment, miniature animals, and more are waiting for you at SkyLand Ranch! This $40 million entertainment venue is set on a 100 acre farm and has something for all ages.
Your journey begins with a scenic chairlift ride that offers views of downtown Sevierville and the Smoky Mountains. Once you reach the top, you can enjoy even more views, retail shops, SkyLand Café & Bakery, food trucks, and daily entertainment. One of the highlights of this attraction is the miniature animal encounters. Guests can interact with miniature horses, miniature donkeys, miniature cows, and more. SkyLand Ranch is also home to The Wild Stallion — the longest mountain coaster in the Southeast! You'll have plenty of opportunities for both fun and relaxation when you visit SkyLand Ranch.
Photo Gallery
Featured Blogs
Mar 8, 2023
Live Music in Pigeon Forge, Gatlinburg, Sevierville & Townsend
There are a handful of great spots to enjoy live music in Pigeon Forge most months out of the year. While you ...
Read This Post
Sep 30, 2023
Cheap Things To Do In Pigeon Forge & Gatlinburg: $20 Or Less
There are plenty of cheap things to in Pigeon Forge and Gatlinburg if you do your homework. We know everyone's...
Read This Post
Feb 28, 2023
20 Smoky Mountain Attractions You Should Put On Your Radar
We know there's a boatload of Pigeon Forge attractions you've heard about and enjoyed on your last trip, but w...
Read This Post
Oct 2, 2023
Where To Take The Best Fall Photos in Pigeon Forge & The Smokies
It's our favorite time of year in the Smoky Mountains. The colors are changing and there's a brand new crisp i...
Read This Post
Apr 19, 2023
Things to Do For Mother's Day in Pigeon Forge
If you're looking to plan a day of appreciation and fun for you mom on Mother's Day, look no further. Pigeon F...
Read This Post
Jul 31, 2023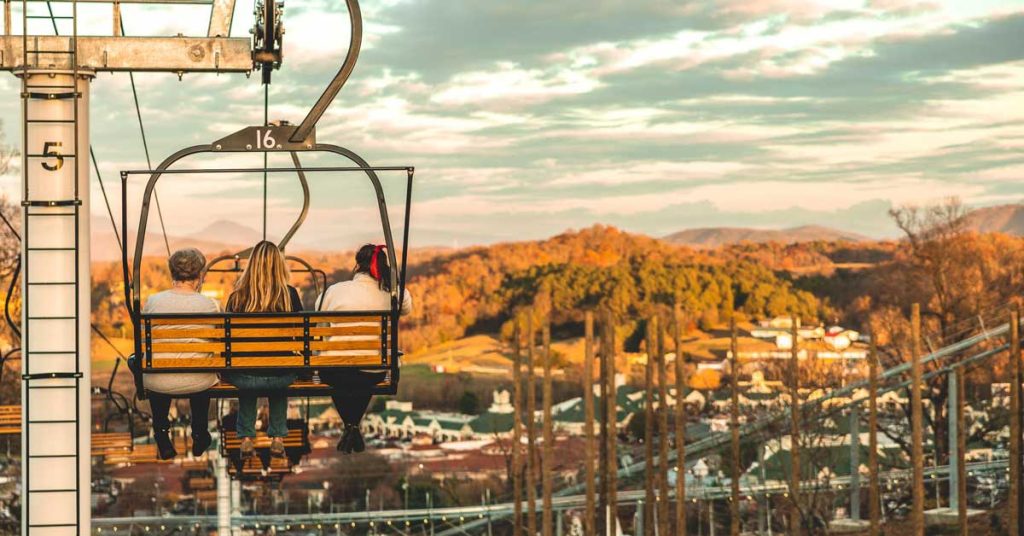 Scenic Chairlifts in the Smoky Mountains
There are several scenic chairlifts in the Smoky Mountains that make for an easy way for people of all ages an...
Read This Post
Upcoming Events
SkyLand's Festival Of Lights
There's no better way to get into the holiday spirit than by visiting the Smoky Mountains — especially this year! SkyLand Ranch is introducing an incredible Festival of Lights ...
Event Information