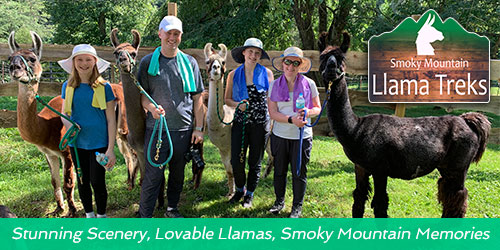 Smoky Mountain Llama Treks
640 Padgett Mill Rd, Cosby, TN 37722 | (616) 430-0775 | smokymountainllamatreks.com
Attractions, Outdoor Attractions, Tours
Overview
Your memories aren't complete until you've experienced the unique hiking adventure that is Smoky Mountain Llama Treks. We offer 2 different hikes with llamas and a petting zoo. Our Padgett Mill trek is approximately one hour long and the Trident Trail hike is approximately 2 hours is a longer hike with your llama to see some spectacular views of the Smokies.
We offer people a very unique experience to see nature away from the commercialized Smoky Mountain area. You may even be surprised by the stories your guide has to tell if you ask him, "How he ended up with llamas", as you hike in the mountains with your cute llama. Come on out and see what everyone is raving about.
Hours are by appointment
Book on our website
Padgett Mill Trek (approx 1 hr) is $65 for adults and $45 for kids
Trident Trail Trek (approx 2 hr) is $90 per person
Farm visit (petting zoo) is at 9:00 am and 2:00 pm most days $20 for adults and $14 for kids
Treks are usually at 10:00 am, 11:30, 3:00 & 5:30 (does vary so check the website)
Reviews
This is a must do for anyone visiting the Smoky Mountains. The llamas were so easy to walk, the hiking trail was gorgeous and our tour guide was amazing. You definitely want to add this to your to-do list... you won't be disappointed!
- May 2019
Photo Gallery
Featured Blogs
Jul 15, 2020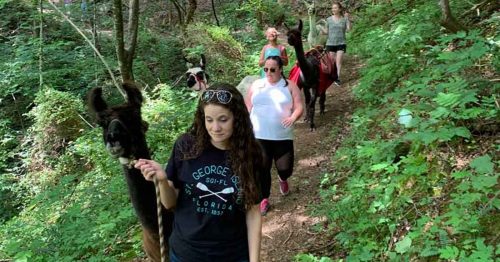 Smoky Mountain Llama Treks: A New Way To Experience The Smokies
We all know that the Smoky Mountains are a great place to take a hike on your vacation. Maybe you've hit the t...
Read This Post
Jun 27, 2022
Things To Do With Teenagers in Pigeon Forge & The Smokies
Pigeon Forge offers plenty of things to do with teenagers, kids, young adults, and ages across the board. We'v...
Read This Post
Nov 13, 2020
Top 100 Things To Do In The Smoky Mountains
100 Things To Do in the Smoky Mountains extend beyond East Tennessee and the national park. While the Great Sm...
Read This Post
Sep 28, 2022
10 Unique Things To Do In Pigeon Forge
With so many great attractions in our Smoky Mountain cities, it can be tough to narrow down the best ways to s...
Read This Post
Feb 28, 2023
20 Smoky Mountain Attractions You Should Put On Your Radar
We know there's a boatload of Pigeon Forge attractions you've heard about and enjoyed on your last trip, but w...
Read This Post
Mar 26, 2021
Cosby, TN | Area Information, Attractions & More
Cosby, TN is located on the northeastern border of the Smoky Mountains. Cosby is a great destination for touri...
Read This Post
Location
Smoky Mountain Llama Treks
640 Padgett Mill Rd Cosby, TN 37722