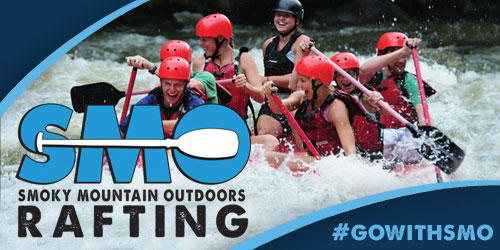 Smoky Mountain Outdoors (SMO) Rafting
103 Silverbell Lane, Gatlinburg, TN 37738 | (877) 900-7038 | smokymountainrafting.com
Attractions, Outdoor Attractions, Rafting
Overview
You want real, off-the-beaten-path experiences. See the mountains from where only boats can go. Raft the Pigeon River Gorge. The rapids are exciting, the views awesome.
Go with SMO! Choose the 6.5 mile Upper River Trip, with Class III – IV whitewater, or the 5-mile a scenic float through Class I – II currents on the Lower River. No experience is necessary. All equipment is provided and our award-winning raft guides give paddling instructions and navigate every raft.
With over 5000 five star Tripadvisor reviews, Smoky Mountain Outdoors (SMO) Rafting has earned the Certificate of Excellence and the prestigious Travelers' Choice Awards year after year. Check out our reviews on TripAdvisor.
SMO Rafting is on the bank of the Pigeon River, only 45 minutes from Pigeon Forge, TN. This beautiful riverside facility in Hartford, TN offers plenty of facilitated parking, showers and changing rooms, souvenir photography, a gift shop, riverside picnic pavilion, and casual food service. Keep your eyes out for Canada Geese, Bald Eagles, or Brown Trout while you explore the grounds.
Family-owned and operated since 1993 by Daniel and Denise Jennette, SMO is the leader in whitewater professionalism in the Smoky Mountains Region. Choose the Most Trusted Outfitter on America's most popular river. Go With SMO!
Call (800) 771-7238 or visit www.smokymountainrafting.com. Trips Go Rain or Shine!
Check out our selection of Adventure Packages!
Reviews
I booked online for 17 people, and then called in an additional rafter without a problem. The facilities were clean and staff was friendly. The whole process was seamless. The guide was super friendly and professional. He even was a wealth of knowledge on the River, the trees along the River, and the secret life of the animals that live there. Highly recommended
-
AWESOME adventure!! This was our first time rafting.. Our guide was Joey. He did a great job. Highly recommend. They even got us on the boat early..They have a food truck on site.. Has good food. Do arrive early and definitely follow the email directions not your GPS.
-
Amazing experience! Our guide was Miami and he was great the whole way. He clearly had done the route many times before and easily guided us through the level 3 and 4 rapids without anybody going overboard. The weather was perfect and the scenery was beautiful. The run was a total of about 2 hours and was a ton of fun. Highly recommend!
-
Pigeon River Campground
Camp on the river and wake up in the fresh mountain air! The Pigeon River Campground is on the bank of the Pigeon River in Hartford, TN, right next door to Smoky Mountain Outdoors whitewater rafting.
Offering riverside tent sites, rustic camping cabins, and full-hookup RV sites, the Pigeon River Campground is a full-service destination including a swimming pool, wi-fi, a camp store, and private bathrooms. With a private boater's take-out and proximity to mountain bike trails in the nearby Cherokee and Pisgah National Forests, adventurers come here to play with their toys. Adventure packages including rafting, guided hikes, ziplining, and mountain biking are available. Visit campinginthesmokymountains.com
Photo Gallery
Featured Blogs
Dec 6, 2022
Pigeon Forge Christmas Gift Guide: Shop The Smokies
If you're coming through the Smokies this holiday season, consider purchasing some awesome Pigeon Forge Christ...
Read This Post
Location
Smoky Mountain Outdoors (SMO) Rafting
103 Silverbell Lane Gatlinburg, TN 37738