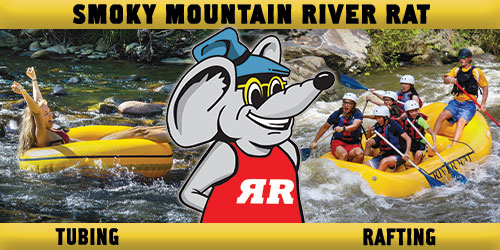 Smoky Mountain River Rat
Multiple Locations | (865) 448-8888 | smokymtnriverrat.com
Attractions, Outdoor Attractions, Rafting, Tubing
Overview
From top-notch Tubing to heart-pumping Whitewater Rafting, Smoky Mountain River Rat specializes in making lasting memories! Family owned and operated since 1995.
River Rat Whitewater: Top-Rated Whitewater Outpost in the Smokies | Hartford, TN
Adventure enthusiasts of ALL experience levels, look no further! River Rat Whitewater is home to the top-rated guided rafting adventures on the Pigeon River. All of our guides are triple-certified in safety training and ready to uniquely cater your rapids expedition to the adventure type that you're looking for.
For the adrenaline-seekers, our Upper Pigeon Adventure combines class III and IV rapids with the natural beauty of the Smokies for an unforgettable river-bound expedition (ages 8+). For an even more adventure-packed tour on this section of the river, check out our Extreme Upper Pigeon Adventure.
Rafting with young ones, or just want to take it easy? The Lower Pigeon Adventure has plenty of exciting rapids, but it's mellow enough for even the youngest thrill-seekers with gorgeous mountain views on class I and II rapids (ages 3+).
Check out our website for a list of amenities, adventure packages, and more. 
River Rat Tubing: Top-Rated Tubing Outpost in the Smokies | Townsend, TN
Looking for the best Tubing in the Smokies? You've found it! Come float your way down two routes on the Little River in beautiful Townsend, TN. We offer both awesome tubing routes with a single wristband, which you can float as many times as you want during operating hours on the day of your visit.
The lower section (Main Outpost, ages 2+) of the Little River is our family-friendly float and features relaxing rapids, scenic views, and even a rock jump! The upper section (Outpost B, ages 6+) is what we like to call the "adventure float." It features a scenic float with adrenaline-pumping rapids and cool, refreshing swimming holes.
Note: Age restrictions may apply with high water levels. Check our website for daily updates.
Check out our website for a list of amenities, adventure packages, and more.
Both Adventures, All Vacation Long! | Combo Adventure Splash Pass
Our combo adventure Splash Passes include unlimited Tubing trips, good through your entire vacation and the rest of the season, plus 1 Whitewater Rafting expedition.
For more info, check out the "Rates & Packages" page on the Tubing side of our site (AtTheRat.com/Tubing).
Photo Gallery