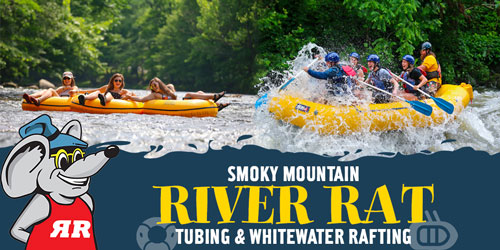 Smoky Mountain River Rat
Multiple Locations | (865) 448-8888 | smokymtnriverrat.com
Attractions, Outdoor Attractions, Rafting, Tubing
Overview
Splash into the Smokies' ONLY hub with both top-notch Tubing and heart-pumping Whitewater Rafting! Since 1995, Smoky Mountain River Rat specializes in making lasting memories, so grab your swim shoes and get ready to vacation as nature intended in Mother Nature's Water Parks.
River Rat Tubing: Top Tubing Outpost in the Smokies | Townsend, TN
Looking for the best Tubing in the Smokies? You've found it! Come float your way down two routes on the Little River in beautiful Townsend, TN. Both awesome tubing routes are included with all day passes, season memberships, and adventure packages – which you can float as many times as you want during operating hours on the day of your visit. Groups of all sizes are welcome. The bigger your group, the bigger your discounts!
The Main Outpost float is our family-friendly float and features many small, refreshing rapids, scenic mountain views, swimming holes and even a private rock jump! This section is suitable for ages 3+, is dog-friendly and is ideal for those wanting to take it easy or first-timers to The Rat. 
Outpost B's route is what we like to call our "adventure float," as it features a handful of steeper, adrenaline-pumping rapids, refreshing swimming holes, and gorgeous mountain scenery along the way! Due to the increased physical requirements of this route, this float is suitable for ages 6+. Dogs are not allowed on this route. You can also find our luxury, Private Riverside Cabana Rentals at this outpost. A full list of cabana amenities can be found on our website.
Note: Age restrictions may apply due to high-water levels. Check our website for daily updates.
Tubing Outpost amenities:
High-quality tubes, complimentary life jackets for all ages, unlimited shuttle rides, dog-friendly tubes, changing rooms, car key kiosk, locker rentals (Outpost A only), lunch options at both outposts, and Gift Shops
Also available:
Private Riverside Cabana Rentals, Season Tubing Passes, Tubing/Whitewater Rafting combo packages
River Rat Tubing is a quick 15 miles from Pigeon Forge, only 20 miles from Gatlinburg, and 9 miles from Cades Cove Scenic Loop in the Smoky Mountain National Park.
Come play in Mother Nature's water parks! PADDLE! SPLASH! PLAY!
Smoky Mountain River Rat is your award-winning destination for a cool escape in the heart of the Smokies. From top-notch Tubing to heart-pumping Whitewater Rafting, we specialize in making lasting memories.
Family owned and operated since 1995.
River Rat Whitewater: #1-Rated Whitewater Outpost by TripAdvisor | Hartford, TN
River Rat Whitewater offers unique, guided rafting adventures on the Pigeon River for all experience levels. All of our guides are triple-certified in safety training and ready to cater your rapids expedition to the type of adventure that you're looking for.
For the adrenaline-seekers, our Upper Pigeon Adventure combines class III and IV rapids with the natural beauty of the Smoky Mountains for an unforgettable river-bound expedition (ages 8 and older). For those wanting an even more adventure-packed tour on this section of the river, we also offer our Xtreme rafts. Our Xtreme Upper Pigeon Adventure features smaller rafts, where you'll take your expedition up a notch and feel the full excitement of every rapid.
Rafting with young ones, or just want to take it easy? The Lower Pigeon Adventure has plenty of rapids to satisfy your craving for excitement, but mellow enough for even the youngest thrill-seekers with gorgeous mountain views on class I and II rapids (ages 3 and up).
Whitewater Outpost amenities:
On-site lunch at Grab It N Growl food truck, picnic area, changing rooms, hot showers, bus parking, and Gift Shop
Also available:
Day-cations (full day of rafting) and Whitewater Rafting/Tubing combo packages
River Rat Whitewater is the closest rafting to Pigeon Forge, Gatlinburg, and Knoxville. We're located just 25 miles from Gatlinburg and 30 miles from Pigeon Forge.
Come play in Mother Nature's water parks! PADDLE! SPLASH! PLAY!
Reviews
We had an amazing time tubing. I have 3 kids (4, 7 and 11) they all agree it was the best thing we've done along our 5 state road trip. We didn't want it to end.
- Kelsey V.
Legit could not stop smiling throughout the entire time we were here! The staff did an absolutely terrific job in making sure we were all engaged & participating during the hilarious safety presentation. Our guide Madison was amazing & did not miss a beat in pointing out and naming all the different rapids & landmarks all while laughing and joking right along with us...One of the most thrilling experiences of my life, 10/10 would do again.
-
Photo Gallery
Featured Blogs
Jan 26, 2022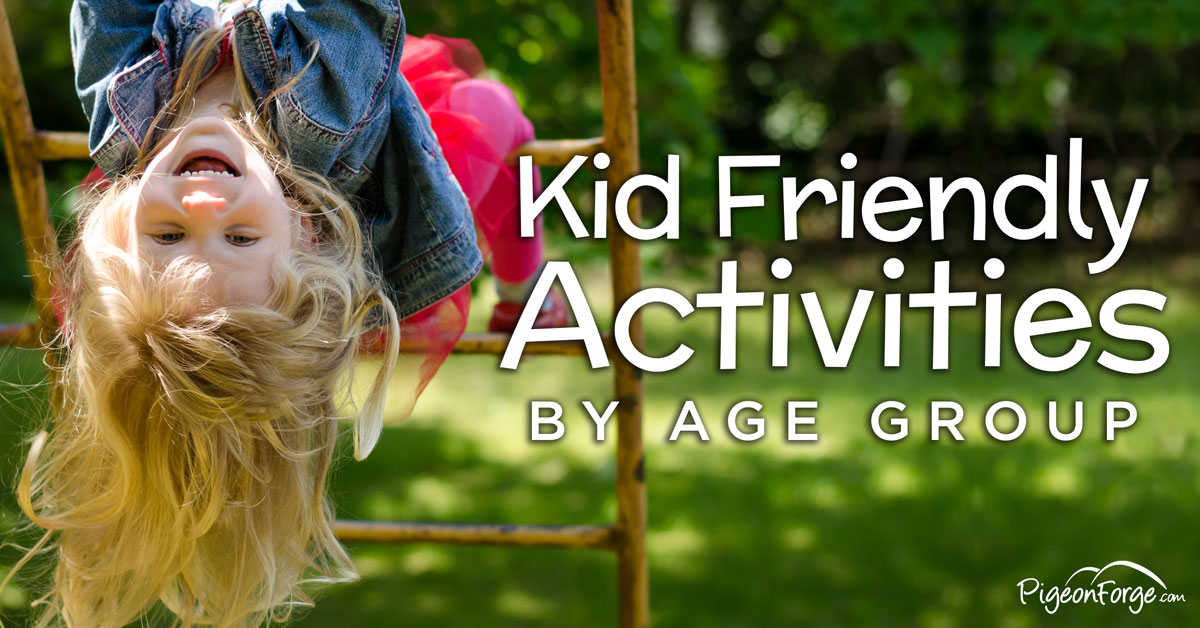 Things To Do With Kids: Activities by Age Group
Things to do with kids in Pigeon Forge are all over the place. Although you'll truly find something for everyo...
Read This Post
Jun 1, 2022
Cheap Things To Do In Pigeon Forge & Gatlinburg: $20 Or Less
There are plenty of cheap things to in Pigeon Forge and Gatlinburg if you do your homework. We know everyone's...
Read This Post
Nov 13, 2020
Top 100 Things To Do In The Smoky Mountains
100 Things To Do in the Smoky Mountains extend beyond East Tennessee and the national park. While the Great Sm...
Read This Post
Jun 8, 2020
If You Like Dollywood, You Might Also Like
We all love a great day at Dollywood and Dollywood Splash Country. The Dollywood rides are a blast, and these ...
Read This Post
Mar 27, 2022
25 Kid Friendly Activities In Pigeon Forge
One of the best things about Pigeon Forge is that it's a destination for fun for all ages, and perfect for kid...
Read This Post
Jun 2, 2020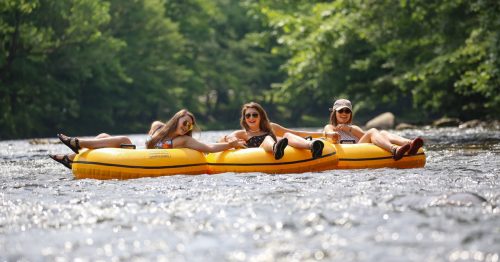 River Rat Tubing In The Smoky Mountains
It's going to be a hot, fun summer here in Pigeon Forge. When you visit, you'll want to plan some time on the ...
Read This Post
Jun 27, 2022
Things To Do With Teenagers in Pigeon Forge & The Smokies
Pigeon Forge offers plenty of things to do with teenagers, kids, young adults, and ages across the board. We'v...
Read This Post