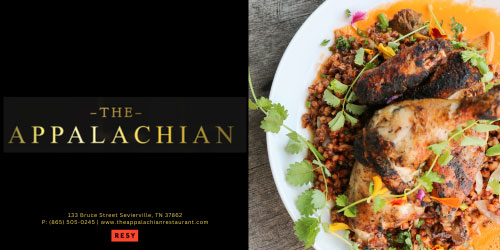 The Appalachian
133 Bruce St., Sevierville, TN 37862 | (865) 345-3697 | theappalachianrestaurant.com
Fine Dining, Restaurants, Steak & BBQ
Overview
The Appalachian, located in Historic Downtown Sevierville, Tennessee, is a contemporary Southern Appalachian dining experience that was created to tell a story and pay homage to the Smoky Mountain & East Tennessee region.
David Rule, Executive Chef and Partner, brings a modern approach to traditional Appalachian ingredients and dishes with an emphasis on smoky flavors coming from a large wood-burning hearth that is positioned in the heart of the kitchen.
"Our hope is that the restaurant provides Southern hospitality at its finest while presenting the greatest reflection and flavors of this amazing region." – David Rule, Partner & Executive Chef
The Appalachian partners with local farms to be able to offer a true farm-to-table experience and fresh ingredients in every dish. The menu features a wide range of Appalachian-inspired seasonal dishes, from starters such as buffalo frog legs and fried chicken skins to mains including glazed duck, rainbow trout, and a variety of dry-aged steaks. To set the mood for this culinary experience, the interior design is led by darker tones with touches of brass, stone and wood. The Appalachian provides a unique culinary experience that you will not soon forget from intimate dinners, a night out with friends and even special events.
For reservations, please visit RESY, or call 865-505-0245. For more information, please visit www.TheAppalachianRestaurant.com.
Please note, The Appalachian prints its menu daily. The menu is subject to change based on availability, seasonality, and the chef's desire.
Photo Gallery
Featured Blogs
Apr 19, 2023
Things to Do For Mother's Day in Pigeon Forge
If you're looking to plan a day of appreciation and fun for you mom on Mother's Day, look no further. Pigeon F...
Read This Post
Jun 26, 2023
Sink Your Teeth Into The Best Burgers In Pigeon Forge
Pigeon Forge is home to a symphony of unique, Southern-style cuisines. But juicy burgers are always a safe bet...
Read This Post
Location
The Appalachian
133 Bruce St. Sevierville, TN 37862