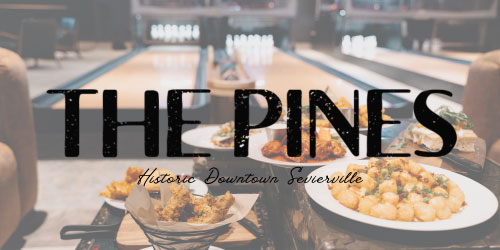 The Pines
230 Court Ave, Sevierville, TN 37862 | (865) 366-1471 | thepinesdowntown.com
Bars & Breweries, Restaurants
Overview
PINS • POURS • PROVISIONS
A nostalgic eatertainment venue where the stakes are high and the drinks are cold! In 1944, The Pines Theater was Sevierville's go-to entertainment venue, hosting Western movies by day and live entertainment by night including the one and only Mrs. Dolly Parton. We've renovated our historic hall to give credit where credit is due. History meets modern entertainment featuring pins, pours, and provisions. Grab a cocktail, order some grub, and socialize with your favorite humans. Welcome to The Pines. Game on!
Photo Gallery
Featured Blogs
Sep 10, 2021
The Best Places to Get a Drink in the Smokies
You might be asking yourself, "What are the best places to get a drink near me?" Don't fret, because we've put...
Read More
May 17, 2022
Best Places To Go Bowling In Pigeon Forge
There are several great places to go bowling in Pigeon Forge. If you're looking for a fun family experience, c...
Read More
Location
The Pines
230 Court Ave Sevierville, TN 37862