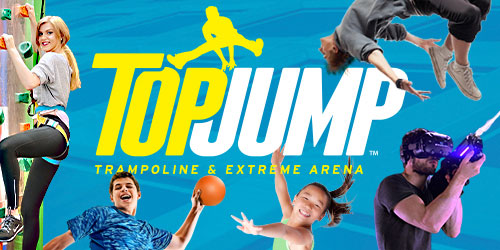 TopJump Trampoline & Extreme Arena
3735 Parkway, Pigeon Forge, 37863 | (865) 366-3400 | topjump.com
Attractions, Indoor Attractions
Overview
TopJump Trampoline & Extreme Arena is the most exciting trampoline park in Pigeon Forge! We strive for your safety, your enjoyment and our reputation! Our trampoline park is everything you can imagine in a state of the art trampoline park and so much more. We have the highest quality trampolines, an indoor ninja park, dodgeball, gladiator pit and kids play area!
In addition to our trampolines you will also be able to experience the most exciting Climbing adventure area with over 20 climbing lines! Clip 'n Climb gives everyone (4 years and up) the opportunity to reach new heights on the most unique, challenging and SAFE climbing creations in Pigeon Forge!
Everyone will enjoy the 5,000 square foot arcade area that gives all ages the ultimate gaming experience with the newest and best arcade games – and the ability to win some of the greatest prizes! And don't forget to make the time for Sugar Rush Candy Store! If you have a sweet tooth – Sugar Rush Candy Store offers you more candy than you can imagine!
We didn't forget about the parents! If you are looking for a break while your kids are having the best time; we offer a comfortable area that overlooks the entire park. Free WiFi, televisions, and even massage chairs throughout the facility. Parents will relax while knowing your kids are safe and having fun.
Here's what a few of our guests have said about their experience at TopJump Trampoline Park in Pigeon Forge:
Excellent!! "We thoroughly enjoyed our time at Top Jump. Our daughter who is 9 absolutely loved every second of her time there – said it was one of the best parts of her trip. We did the one hour climb and one hour jump package. I liked that it included water – it certainly was needed. The staff were all great and really appeared to love their jobs – which is always a plus as a parent!" – Sugarplum14, TripAdvisor
Kids had a Blast "TopJump Trampoline Park a great place for restless kids! It has a jump area and a climbing area with challenging activities for every level. The arcade and candy store is a nice addition. The parent overview area is perfect to keep an eye on your children and see their activities. The price is about average compared to other jump parks." – Shakina G, TripAdvisor
Repeat Jumpers My boys (10 and 6) LOOOOOOOOOVE this place! It is the perfect spot for them to unleash some of their energy. The last time we went, I was able to join in the fun and we had a blast! Definitely a place for the entire family to have fun! – Melissa G, TripAdvisor
We are located between traffic lights 8 and 10 near Dixie Stampede.
Photo Gallery
Location
TopJump Trampoline & Extreme Arena
3735 Parkway Pigeon Forge, TN 37863
(865) 366-3400