Treehouse Grove
475 Norton Creek Road, Gatlinburg, TN 37738 | (865) 409-1410 | treehouse-grove.com
Cabin Rentals
Overview
It's a mountain getaway in the trees: a night spent in one of 16 treehouses designed by "Treehouse Master" Pete Nelson and located on the doorstep of the Great Smoky Mountains National Park. It's the kind of escape you dream about, a secluded environment that's somehow close to it all. A luxurious treehouse vacation here gives you time to relax in nature. Explore the fun things to do in Gatlinburg during the day, and wind down in our treehouse cabins deep in the Great Smoky Mountains. We also offer wedding packages and space to host other large events. A place you wish existed as a child, but one you can share with your own children now. The vacation that's unlike any you've had before, the neatest of ways to relax and recharge.
Reviews
We had a fantastic time here and would recommend it to anyone. The accommodations were top notch, everything was seamless including how to check in, receiving the code to your tree house. The treehouse was spotless and provided everything it shows. Absolutely loved the area, how quiet it was. Would highly recommend!
- Mike B.
The perfect getaway, we have visited the area before and decided to try something different, highly recommend staying at the Treehouse grove. We will do this again, the tranquility of being in the trees of the Smoky Mountains is amazing, especially after a busy day in Gatlinburg. We stayed in the Blackjack Oak, the glass garage door in the bedroom was a nice touch! Very clean and easy check in and out process, they delivered all promised amenities.
- Melisa B.
Amazing mountain views! Beautifully designed and crafted to blend with the surroundings. Host was quick to respond to any questions or concerns at check in. Will definitely plan to revisit and stay longer than a weekend.
- MarkEllen U.
We loved TreeHouse Grove. Charming and decompressing as you drive in along the creek. The tree houses are nestled beautifully into the landscape. The perfect and cute interior was spotless and impeccably kept. The info left for guests about the area is great. My 11yo loved it too. I would visit here again in a heartbeat. Thank you!
- Sarah F.
Photo Gallery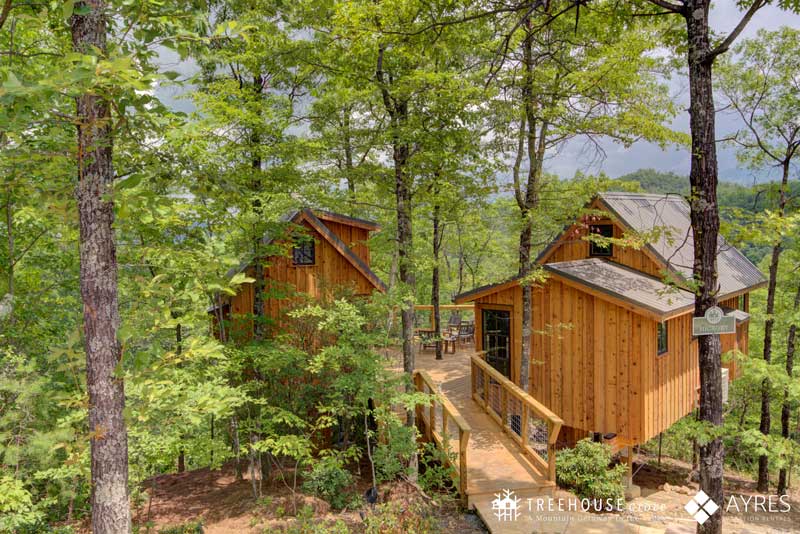 Featured Blogs
Dec 12, 2019
Out On A Limb: Treehouse Cabin Rentals In The Smoky Mountains
When you were a kid, did you ever dream of living in a treehouse someday, high above the ground and away from ...
Read This Post
Location
Treehouse Grove
475 Norton Creek Road Gatlinburg, TN 37738