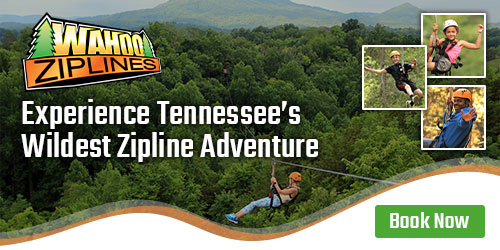 Wahoo Ziplines
605 Stockton Drive, Sevierville, TN 37876 | (865) 366-1111 | wahooziplines.com
Attractions, Outdoor Attractions, Zipline
Overview
Wahoo Ziplines is an exciting outdoor adventure company that offers a thrilling zipline experience. Set in the beautiful Great Smoky Mountains, at Wahoo Ziplines you can expect to soar over the treetops and get an amazing bird's-eye view of the lush Appalachian landscape. From the beginner to the experienced thrill-seeker, Wahoo Ziplines offers a memorable and exhilarating experience.
Opened in 2008, Wahoo Ziplines was the first in The Smokies. With approximately 2 miles of cables strung between platforms, zippers are immersed in a hardy forest canopy of beech and oak trees. There is no view left unobserved. From above, under or through, these cables offer heights from 40 feet to 250 feet from the ground. A pleasant set of walking trails along the forest floor connect platforms offering customers a chance to share their ziplining stories. The course is designed to build anticipation and in grandeur, to grab your attention and not let go.
Wahoo offers a family friendly experience for ages 5 and up. Concerns of slowing down and stopping are eliminated by the use of speed regulated lines and well-trained certified guides. Freedom from stress allows each person to focus on the excitement of letting go, spinning 360, and even flipping upside down.
Reviews
The zip lining itself was an amazing experience, but the guides are what made the experience phenomenal! Taylor and James were patient, helpful, friendly, humorous and just so much fun!! And it was super affordable. I'll definitely be going back if I ever take a trip to the Smokies again.
- Stephanie L.
Such an awesome place!! Everyone was super friendly and the guides were awesome! If you have never been zip lining before and are nervous they make it super fun and not scary at all.
- Erin L.
Photo Gallery
Location
Wahoo Ziplines
605 Stockton Drive Sevierville, TN 37876