Dollywood is one of Pigeon Forge's top attractions. While planning to visit the park, you may have come up with some questions that you've been dying to know the answer to. We've compiled a list of some of the most frequently asked questions about Dollywood to help you plan your vacation. Check out these questions and answers before you buy your Dollywood tickets.
Before You Go
When you're planning for your trip to the park there are a few things you will want to pay close attention to. Dollywood hours vary throughout the year so plan ahead to make the most of your day. While Dollywood prices may seem high, Dollywood discount tickets become available during specific times and for special occasions. If you're looking to save money, you'll want to plan to visit during these periods.
More Info
What is the best time of year to go to Dollywood?
This really depends on what you are looking for. If you are looking for a classic Dollywood experience, spring and summer are great times to visit. Visitors who enjoy Halloween will love the park during the Dollywood Harvest Festival when pumpkins, scarecrows and other festive fall decorations are on display. If Christmas is more your speed, you'll want to visit during the winter before the park closes in January to experience the holiday lights, celebrations and more.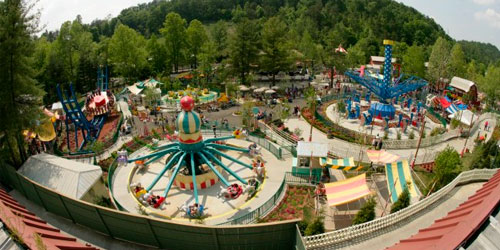 What are the best days of the week to avoid crowds?
Crowds at Dollywood depend on the weather, time of year and the special events taking place at the time. While there is no guarantee that you won't encounter crowds on certain days, visitors report that Wednesdays and Thursdays tend to have lower crowds than the rest of the week. Another option is to use this crowd prediction calendar for refereastence.
Are there any Dollywood discount tickets that I can take advantage of?
At any given time, you may be able to find Dollywood discount tickets. Dollywood runs specials for locals at different times of the year, as well as military discounts year-round. In addition, you may be able to find discounts by contacting your local AAA chapter. We wouldn't recommend using discount codes shared on Facebook or other websites.
It's also worth a shot to swing by the McDonalds on the parkway in Pigeon Forge and purchase something. Visitors have reported that there are Dollywood discounts sometimes printed in the paper bags. Another place to check? The gas station convenience store or local grocery stores. Discount coupons have been seen on Coke cans!
There are often many discounts to Dollywood floating around online. Be careful using these as they are often associated with a specific company or organization and will require a form on ID or check stub to use. Often times they are invalid or expired.
If I come to Dollywood after 3, can I still get in free the next day?
In previous years, visitors who purchased tickets and entered Dollywood after 3 PM were alloewd to return the following day for free. This program has been discontinued and tickets purchased after 3 PM are not valid for reentry the following day. In order to return, you will have to purchase another ticket.
---
Eats, Drinks & More
One of the highlights of many Dollywood reviews are the food spots within the park. Whether you are looking for cheaper options on somewhere to eat or hunting for the famous cinnamon bread that Dollywood sells, there is something to satisfy your cravings inside the gates.
Dollywood
What are the best cheap dining options inside the park?
There are many dining options in the park from concession stands to full service restaurants. A couple of budget friendly food items to consider are the souvenir refillable mug, refillable popcorn bucket (or pork rinds for a discount!), Dippin' Dots ice cream, or a cinnamon bread to share. Water is complimentary throughout the park at all restaurants and food stands.
What are souvenir mugs and why should I get one?
Souvenir mugs at Dollywood double as both something to remember your trip by and a great way to save money. When you purchase a souvenir mug, you are able to get discounted drinks for the entire season at Dollywood. Owners of the souvenir mugs get $0.99 fountain drinks and $1.99 hot or frozen beverages in both Dollywood and Splash Country.
Dollywood is fun for young to old! Aunt Granny's is the best place to eat, indoors with air/heat, and has something for everyone. The souvenir mugs are also a good deal - can be refilled for .99.

ky_traveler2010
Can we bring our own food and drinks into Dollywood?
According to their website, Dollywood does not allow coolers, outside food or drinks into the park. With that being said, many guests online and in reviews have reported that they did take in small individually packed snacks items as well as one refillable water bottle per person. With this in mind, please remember that we can't make any promises that your food or drink items will be allowed in. You can always have a picnic outside the gates!
What accommodations exist for new mothers to feed and take care of their babies?
Any restaurant in the park can assist in warming a bottle (not including concession stands). Dollywood's baby care center in Showstreet offers a private area for feeding, nursing and changing. It offers unique amenities to make mom and baby comfortable, including private nursing areas, gliders and footstools to relax on and baby changing stations.
Getting Around
When you are purchasing your Dollywood tickets in person or online, you will have the option to rent a variety of transportation options for inside the park. Visitors can bring their own strollers, but there are also Dollywood strollers, mobility scooters and wheelchairs available for rent.
Are mobility scooters and wheelchairs available?
There are a limited number of wheelchairs and mobility scooters available to rent at Dollywood. A limited number of these options are available online for reservation in advance and the rest are rented on a first-come, first-serve basis at the park. If you aren't able to get one while they are available online, we would recommend showing up early to make sure you can secure one in person.
Can I bring a stroller in?
Strollers can be brought into the park and are also available for rent. The rentable strollers are available on a first-come, first-serve basis and some visitors have reported that they are even better for the park than the ones they brought from home. No matter what option you use, make sure you park them in designated areas while you are enjoying attractions within the park.
How do the storage lockers work?
There are two types of storage lockers at Dollywood. Front gate lockers are all day locker rentals available on a first come, first serve basis. There are regular and family sized available. The floating ride lockers are available at many of the rides on park and are a one time fee meaning you pay one price and can float from locker to locker without having to pay at each new locker location.