Dollywood is a star attraction in Pigeon Forge. It consistently ranks among the most-loved theme parks in the country and offers true East Tennessee charm to guests of all ages. You can enjoy thrill rides, great music and shows, and award-winning dining all within this 150-acre amusement park!
Download Dollywood Map
Wildwood Grove
The newest addition to Dollywood, Wildwood Grove includes brand new rides like Dragonflier, The Mad Mockingbird, and Treetop Tower. When you get hungry stop by Till & Harvest for a whole new twist on traditional regional specialties. As you wander around Wildwood Grove, say hello to ambassadors like Flit & Flutter and Benjamin Bear, and listen to the authentic sounds of the Smokies from the Wild Roots Band.
Beyond an ancient hollow log and into a hidden land, Wildwood Grove beckons the explorer in all of us. Let curiosity be your guide as you journey ever deeper, past sparkling creeks, through a charming village, and under the mighty limbs of the great Wildwood Tree. This is where adventure takes root and dreams take flight.

Dollywood
Craftsmen's Valley
Attractions in Craftsmen's Valley include the Dollywood Grist Mill, Valley Theater, Eagle Mountain Sanctuary, Wings of America Theater, Calico Falls Schoolhouse, the Tennessee Tornado coaster, Blazing Fury coaster, Daredevil Falls flume ride, Robert F. Thomas Chapel and folk arts and craft exhibits. Check out the point-of-view video below of the famous Blazing Fury!
Rivertown Junction
Strolling through Rivertown Junction is like taking a trip back in time. This area of the park is home to two iconic Dollywood attractions, both of which will let you experience the beauty, simplicity and sense of adventure you'll find only in the Great Smoky Mountains. Attractions include Tennessee Mountain Home, the Back Porch Theater and the Smoky Mountain River Rampage whitewater rafting ride.
The Village
Located just across from the Country Fair, The Village is a one of the most iconic Dollywood areas. Here you'll find an old-timey photo booth, a selection of shops and even a delicious place to get a snack! Attractions in The Village include Dollywood Express steam train, Heartsong, and the Magic Laughmaker. Spin around on the nostalgic carousel, which features 60 hand-painted animals!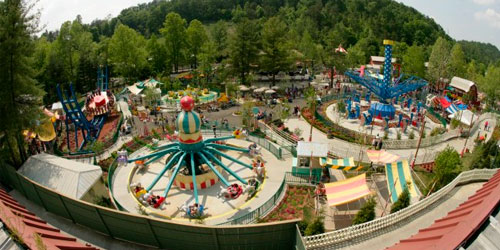 The Country Fair
Meet on the midway at Dollywood's charming Country Fair. This down-home portion of the theme park lets your experience the carnival-like fun and atmosphere of an old-fashioned day at the fair! From sampling fried foods to trying your hand at classic games like Lucky Duck, you'll love this blast from the past. Rides include The Dizzy Disk, the Amazing Flying Elephants, Lemon Twist, Shooting Star, Sky Rider, Spin Kid's Rollercoaster, Waltzing Swinger, Piggy Parade, Busy Bees, Lucky Ducky, Dolly's Demolition Derby, and more.
Timber Canyon
Pay homage to the Smoky Mountains' logging legacy in Timber Canyon at Dollywood. Enter this part of the park by strolling in down the 800-foot Timber Pass. This woodland wonderland offers an authentic Smoky Mountain experience thanks to its lush woody landscape and rustic surroundings. Attractions include the beloved Mystery Mine coaster, the Thunderhead coaster, Lil' Loggers' Landing and Lumberjack Lifts.
Jukebox Junction
Dolly's humble East Tennessee origins helped set her up for a lifetime of success! Learn more about her origins in Jukebox Junction, located right between Rivertown Junction and Adventures in Imagination. Attractions at Jukebox Junction include the wooden coaster The Lightning Rod, Rockin' Roadway car ride and Pines Theater.
Owen's Farm
Owen's Farm is nestled just outside Craftsman's Valley. This farm themed area is reminiscent of Dolly Parton's days spent at her mother's, Avie Lee Owens Parton, childhood home. This charming area of the park combines the new and old to make a can't-miss stop for family fun. Attractions include the Mountain Slidewinder, the Barnstormer, Granny's Garden, Lil' Pilots Playground and The Pig Pen.
Adventures in Imagination
Attractions include the Dolly Parton's My People! show, Dolly's Home on Wheels and the Chasing Rainbows Dolly Parton museum.
Wilderness Pass
Located at the park's far north end, Wilderness Pass is an adventure-themed area that taps into the Great Smoky Mountain's history of exploration. Adrenaline pumping attractions include FireChaser Express, the River Battle water ride, the SkyZip zip line attraction, Fire Fun Yard, and America's first wing coaster the Wild Eagle.
Showstreet
One of Dollywood's biggest draws is its classic country shows. If you're a fan of this American music genre, be sure to visit Showstreet. Located near the entrance to Dollywood, this section of the park is home to the Showstreet Palace Theater & Showstreet Gazebo, DP's Celebrity Theater, Southern Gospel Music Association, a delicious taffy kitchen for those with a sweet tooth, plus the Front Porch Café and frozen lemonade & ice cream shops. As soon as you enter the park, you'll be greeted by Showstreet's sounds, lights and action!
---
Dollywood is open from early spring until after Christmas. The park's season is lined up with festivals, special events, concerts and more! No matter when you visit, Dollywood promises to entertain and excite the entire family! After learning the Dollywood map, consider making Dollywood a part of your next Smoky Mountain vacation. Browse PigeonForge.com for more vacation planning information, including lodging, attractions, events and more!