Dollywood has reopened with some changes and safety measures in place to protect staff and visitors from COVID-19. Things will look a little different at both Dollywood, Splash Country and the DreamMore Resort in order to keep visitors safe. We've compiled some of the most important facts for guests planning to return to Dollywood in the near future, including key policies, procedures and temporary closures.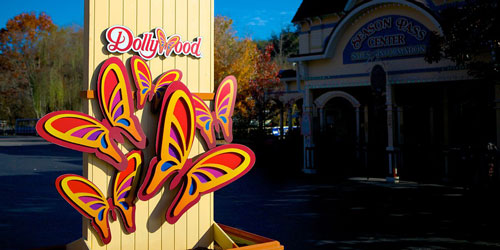 Dollywood Reopening
Dollywood reopened to the public as of June 17. In order to function within the guidelines set by the state of Tennessee, a day at Dollywood will look a little bit different. Indoor shows will not be operating, capacity limits will be in place and other operations may be altered in order to allow for social distancing to keep everyone safe.
Important note: Beginning the week of August 9, Dollywood will be closed on Tuesdays, Wednesdays and Thursdays. This schedule change runs until the week of September 27. Please check the Dollywood website to ensure that the park will be open on your desired date.
Dollywood's Splash Country Reopening
Dollywood's Splash Country reopened to the public on June 17. It is following a similar reopening plan as Dollywood, with a couple differences. Specifically, as of July 15 both season passholders and single-ticket guests are required to make reservations for the day of their visit.
Important note: Beginning the week of August 16, Splash Country will be closed Monday-Friday. The water park will open for visitors on Saturday and Sunday only. Please check the Dollywood website to ensure Splash Country will be open on your desired date.
Dollywood DreamMore Resort & Spa
Dollywood DreamMore Resort & Spa reopened as of June 10th. Restaurants on the property may alter their services, hours and capacity to meet guidelines for social distancing and keep visitors and staff safe. Select amenities will remain closed until further notice in accordance with policies outlined by the state.
Reservations, Arrival Procedures & More:
As of July 15, Season Passholders are not required to make a reservation to enter the park. In order to maintain social distancing, season passholders will still be required to make reservations at Splash Country.
In addition to lifting the reservation requirement for season passholders, Dollywood is also making single day tickets more flexible for guests. If you purchase a single day ticket to Dollywood, the ticket will remain valid for 5 days after the originally selected date. If weather is not ideal on your originally selected date or your trip plans change, this allows for flexibility in when you visit Dollywood.
Please see the Dollywood website for the most up-to-date information on reservations as this is subject to change.
Upon arrival, guests will have their temperatures taken with a contactless temperature screening device. Your temperature must be below 100.4 degrees to be allowed to enter the park. In the event that one member of your party has a fever over 100.4 degrees, other members of your party who rode in the same vehicle will not be allowed to enter.
Alcohol based hand sanitizer will be available for use throughout the park. There are also portable hand washing stations for visitors to use throughout the park.
Face Mask Requirements:
Dollywood will require all visitors ages 3 and up to wear a face mask or covering on property. Face coverings will not be required while eating or drinking, taking photos, swimming or on water attractions, while riding "high thrill" or "Black Diamond" attractions, in showering and changing facilities, or in private rented Cabanas where social distancing can be maintained. Visitors can bring a mask or one will be provided when you arrive. This requirement is in line with CDC and government guidelines to stop the spread of COVID-19.
Shows, Festivals & Ride Operations:
According to the Dollywood website, rides and attractions will have limited capacity. Throughout the park, you will notice markings on the ground to help with social distancing.
Restaurants on property will be open to serve guests but will also operate under limited capacity with more frequent cleaning taking place.
Select indoor shows and theaters on the Dollywood property will remain closed where social distancing cannot be followed. Outdoor theaters and entertainment will continue, including the Flower & Food Festival, Harvest Festival and Smoky Mountain Christmas.
Dollywood's DreamMore Resort Guidelines:
Guests at Dollywood's DreamMore Resort will be required to wear masks in public spaces (excluding time spent dining and swimming).
Housekeeping services are temporarily discountined. Rooms will be sanitized following each guests departure.
Facilities that remain closed at this time include:
The Spa
The Playground
The Fitness Center
The Game Room
The Garden House Indoor Pool
The Business Center
Valet Parking
Dollywood's DreamMore Resort Guests & Park Reservations:
Guests at DreamMore will follow a slightly different policy for reservations to Dollywood & Splash Country. According to the Dollywood website, any guests who purchase lodging packages with included tickets to the parks will not be required to reserve their entry into the parks.
Lodging guests who have purchased season passes will still receive priority entrance to the parks but are also required to make reservations through Dollywood's reservation system.
We can't wait to welcome you back to Pigeon Forge this summer. Please keep in mind that guidelines, policies and procedures are subject to change given the uncertainty surrounding COVID-19. Dollywood's hours are also subject to change. For the most up-to-date information regarding policies and reservations, please see the Dollywood website.