We're sorry you missed it! This event has passed. Please click back to our
event calendar
for future occurrences.
Event Details
A fantastic family Halloween day event at the aquarium in Gatlinburg. Fun for visiting guests and local residents – contests, costumed characters, candy and a pumpkin contest plus trick or treat safety from the Gatlinburg Police Department and fire safety from the Gatlinburg Fire Department. Annual Trick or Treat Kickoff Karnival will be held on Halloween at Ripley's Aquarium of the Smokies. Contests, costumed characters, games, food vendors and lots of candy will help make an unforgettable event for resident and visitors of all ages.
Ripley's Haunted Adventure sponsors the annual Trick or Treat Kick Off Karnival on the Plaza of Ripley's Aquarium of the Smokies. The event is from 11 AM – 4 PM. There will be plenty of games to play for prizes and a costume contest from infant to adult. Some games will be $0.50 per play. The monewy raised at this event will go to the building of the Pittman Center Elementary school playground fund. Trick or Treating in downtown Gatlinburg will begin at 5 PM.
Location Details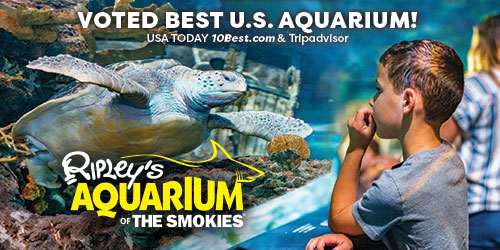 Ripley's Aquarium of the Smokies
88 River Rd, Gatlinburg, TN 37738
At Ripley's Aquarium of the Smokies, Marvel at every creature of the ocean without getting wet! From playful penguins to fierce-looking sharks, this amazing aquatic world is educational and fun... t...
Learn More →
Featured Posts