Event Details
The Ripley's Haunted Adventure and Pepsi will sponsor the 15th annual Halloween Trick or Treat kick off carnival on the Plaza of Ripley's Aquarium of the Smokies on October 31st – (Halloween). The event will be from 11 AM – 3 PM. Activities include games, toys, food, candy and a costume contest. Some of the games will be 50 cents each play for the larger prizes. That money will go to a local charity that will be announced later. There will also be a lot of free prizes and candy from vendors that will be participating from the Sevier County area. The costume contest will begin at 2 PM. After the Trick or Treat Carnival, take a quick break to get ready for the regular Trick or Treating festivities in Downtown Gatlinburg from 5 – 9 PM.
Location Details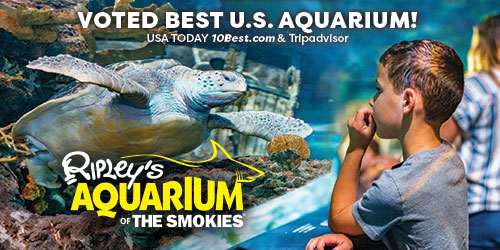 Ripley's Aquarium of the Smokies
88 River Rd, Gatlinburg, TN 37738
At Ripley's Aquarium of the Smokies, Marvel at every creature of the ocean without getting wet! From playful penguins to fierce-looking sharks, this amazing aquatic world is educational and fun... t...
Learn More →