This 2020 event was cancelled. Please click back to our
event calendar
for future occurrences.
Event Details
Advocates for Autism (AFA) and Ripley's Aquarium of the Smokies present their 6th Annual Autism Family Day. Ripley's Aquarium is opening extra early for families with autism from 7:30-10:00am. You must arrive between 7:30-9:00 am to get the special admission price of $7.82 per person (includes tax) and bring your registration receipt (printed "ticket") from Eventbrite.
Feel free to bring other family members. You will be welcome to stay as long as you like (into the afternoon if you want!) after the general public begins arriving at 9am. A Quiet Room will be available. Volunteers will be on hand to help visitors as needed.
Please register here for $3 per person (ages 2 and up) to hold your spot and then pay $7.82 per person ages 2 and up at the door when you arrive. AFA volunteers will check you in as you arrive, and then you will proceed to Guest Services to pay at the ticket counter.
Parking is available in the aquarium's parking garage located directly behind the aquarium. Online registration is REQUIRED for this private event. The registration fee is non-refundable to hold your family's spot for this limited space private event.
Location Details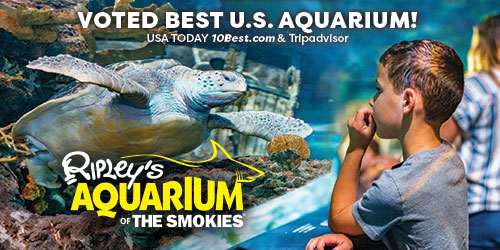 Ripley's Aquarium of the Smokies
88 River Rd, Gatlinburg, TN 37738
At Ripley's Aquarium of the Smokies, Marvel at every creature of the ocean without getting wet! From playful penguins to fierce-looking sharks, this amazing aquatic world is educational and fun... t...
Learn More →
Featured Posts