Event Details
Make plans to experience Anakeesta's Bear-Varian Fall Festival!
Running from September 9 through October 31, each village at Anakeesta is transformed into a magical realm filled with autumnal décor that will leave you spellbound. Discover pumpkins, scarecrows, seasonal photo-ops and more, around every corner while looking out at the cascading red, orange, and golden leaves over the Great Smoky Mountains.
Fall Colors: Take a trip to the top of AnaVista Observation Tower this autumn at Anakeesta and get 360 degree views of the beautiful Fall Foliage atop the highest point in downtown Gatlinburg. Stroll through the Treetop Skywalk and immerse yourself high in the tree canopy and walk amongst the treetops as the beautiful foliage changes right before your eyes.
Live Music: New for 2023, Anakeesta band The SkeleTones will perform all of your favorite Halloween hits! With songs from yesterday and today, they are sure to have you dancing in your seat as they set the mood for the season.
Family Fun: Come along with Stitches and Patches, a pair of corny scarecrow brothers, as they work to repair their third brother Stuffy, who has found himself in a bit of a situation and needs your help in putting him back together again so that they can fulfill their dream of performing for you. Join the Anakeesta witches through song, dance, potions, and a little bit of help from our guests, to create the perfect brew guaranteed to bring the festival to life.
Beer Tasting Experience: This year, you can purchase a beer pass in addition to your general admission tickets for $21.99. With each pass, guests will be allowed to taste six 8 ounce pours of beer or cider from multiple locations around the park. Anakeesta has partnered with several prestigious local breweries to bring a one-of-a-kind beer sampling experience to the Smoky Mountains including Gypsy Circus, Blackhorse Brewing, Tailgate Brewery, Highland Brewing, and Blackberry Farms.
Fall Food: Check out the flavors of Fall with specialty seasonal food offerings at food and beverage locations throughout the park. Try a Pork Schnitzel with brussels and smashed potatoes at Cliff Top Restaurant, A GIANT Turkey Leg from Smokehouse Bar and Grill, Soft Pretzels at the Watering Can, Bratwurst and Kraut at Kephart Café or indulge in sweet German Chocolate Cake Funnel Fries at the Snack Shack. You won't want to miss all of our Bear-Varian themed dishes expertly created and prepared by in-house chefs!
Anakeesta At Night: As day changes to night, and the sun dips below the mountains in the distance, Anakeesta's lights come on for guests to experience Anakeesta at Night. The whole village becomes awash in colors of orange, purple, and a mystical green. Around every corner is another whimsical piece of nature-themed Halloween décor.
Anakeesta passholders will receive a 40% discount on Bear-Varian t-shirts and pint glasses, available for a limited time.
Location Details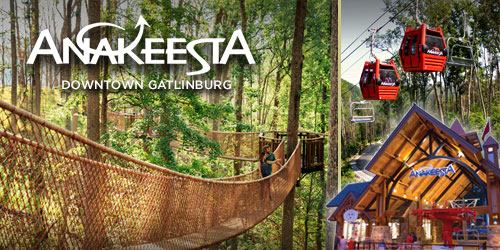 Anakeesta
576 Parkway, Gatlinburg, TN 37738
Immerse yourself in the beauty and adventure of the great outdoors at Anakeesta. Located in the heart of the Smoky Mountains, our mountain top theme park sits high atop Gatlinburg with spectacular ...
View This Business