Event Details
Join us for a fall celebration in the tradition of old-time county fairs with all-around family fun for the whole family.
We will celebrate all that is good about an old-fashioned country fair with activities that include living history demonstrations of open hearth cooking, spinning, weaving, wood turning, blacksmithing and there will be livestock with cows, chickens, and goats.
Popular activities include historical games like Farmer in the Cove and the Ladies Skillet Throw. Farmer in the Cove is a hands-on experience for children to learn the chores of a typical farm family in the 19th century. Some of the 'chores' include picking apples, gathering eggs, sweeping the cabin porch, doing laundry by hand, corn shelling, and planting crops.
Location Details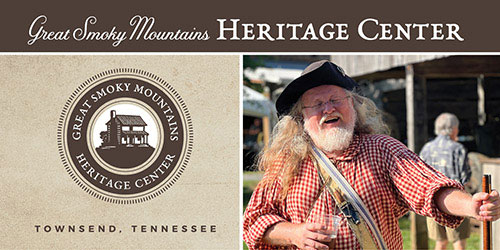 Great Smoky Mountains Heritage Center
123 Cromwell Drive, Townsend, TN 37882
The Great Smoky Mountains Heritage Center is an experiential museum that seeks to preserve, interpret, and share the history and culture of the diverse peoples who have inhabited the Smoky Mountains r...
View This Business