We're sorry you missed it! This event has passed. Please click back to our
event calendar
for future occurrences.
Every year hundreds of fans pour into the Smoky Mountain Convention Center to come to the Christmas In The Smokies Bluegrass Festival. While the bluegrass festival is enough fun for anyone, there is so much more to offer in Pigeon Forge! The festival is held in the heart of Pigeon Forge on Parkway. The whole city is decorated for Christmas and sparkles everywhere you go at night. There is lots of shopping, food, and fun in Pigeon Forge. Come join us this year at the festival!
Headliners for 2018: Lorraine Jordan & Carolina Road, Doyle Lawson & Quicksilver, Paul Williams & Victory Trio, Big Country Bluegrass, The Churchmen, Ralph Stanley II & The Clinch Mountain Boys, All Stars of Bluegrass, Smoky Mountain All-Stars, Garrett Newton Band, Malpass Brothers, Deeper, Shade of Blue, Gary Brewer & Kentucky Ramblers, Jay Armsworthy & Eastern Tradition, Dean Osborne Band, Salt & Light, Wilson Banjo Co., ETSU Pride Band, Nathan Stanley, Circa Blue, Constant Change, Suggins Brothers, Larry Efaw & Bluegrass Mountaineers, and Williamson Branch. Learn more about the musicians here.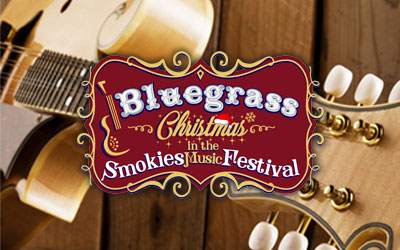 Where:
Smoky Mountain Convention Center
Event Website