We're sorry you missed it! This event has passed. Please click back to our
event calendar
for future occurrences.
Fitness
6th Annual Kickin' Chicken 5K Run & Fun Walk
September 1, 2018
Comedy Barn Theater • Pigeon Forge, TN
Event Details
Join us Saturday, September 1st at The Comedy Barn for the 6th annual Kickin' Chicken 5K Run & Fun Walk. You can register for the race online or the day of the race from 6:30 to 7:45 am. Heavy weight cotton short sleeve t-shirt guaranteed if you register by 9:00 AM August 27, 2018. This race benefits the Safe Harbor Child Advocacy Center.
The race consists of a single loop 5k course beginning and ending at the Comedy Barn. Great course including one of Pigeon Forge's beautiful greenways.
Refreshments will be furnished after the race. Great prizes for participants & a big silent auction open to the public! The public is welcome! For more information call the Comedy Barn Theater at (865) 428-5222.
Awards: Top M/F Overall, Master, Grandmaster, and Veteran Finisher. Awards Three Deep to M/F Finishers in Age Group 1-10, 11-14, 15-19, 20-24, 25-29, 30-34, 35-39, 40-44, 45-49, 50-54, 55-59, 60-64, 65-69, 70-74, 75-79, and 80+ (overall winners not eligible). $100.00 cash to the 100th finisher, & special award for the largest team.
Location Details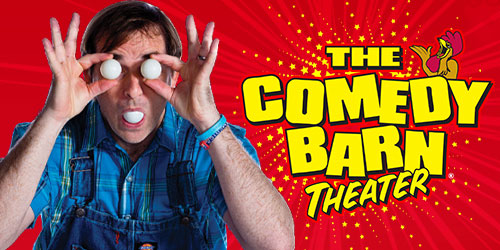 The Comedy Barn Theater
2775 Parkway, Pigeon Forge, TN 37863
The Most Successful and Most Attended Clean Comedy Theater in the World - twenty-five years and counting! Get your entire family ready to laugh with fun barnyard animals, magicians, jugglers, ventrilo...
Learn More →
Featured Posts