We're sorry you missed it! This event has passed. Please click back to our
event calendar
for future occurrences.
Benefits & Charity, Fitness
Smoky Bear Turkey Chase 5K
November 24, 2016 @ 8:00 am - 11:00 am • 8:00 am - 11:00 am
Event Details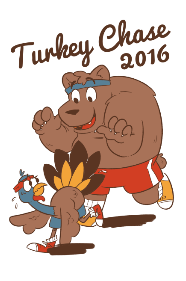 The SCHS Foundation 5k races raise funds for the Sevier County High School Foundation and the SCHS Science Department Lab. The proceeds from the 5K go to help the SCHS Science Club purchase Vernier probeware for AP chemistry and physics this year taught by Dr. Suzanne South.
Course Description: Course will close after 1 hour and 15 minutes. The race will begin in Burchfield Stadium at SCHS. It will wind through campus and end back in the stadium.
Registration and Entry Fee: Early Registration is $25 until 11/11/2016, $30 from 11/12/2016 until 11/23/2016, $35 on site registration. Race day registration from 7:00 – 7:45 a.m. No refunds. Race will be held rain or shine.
T-shirts: Long sleeved t-shirts. Pre-registered runner/walkers will receive shirts on race day. Race Day registrants will receive shirts as supplies last. Shirts will not be mailed.
Awards: Top M/F Overall, Top M/F Current SCHS Student, Awards three deep beginning with 10 and under, then 5 year increments thereafter. Overall winners are not eligible for age division awards.
Refreshments: Refreshments will be provided in the stadium following the race.
Results: Complete results will be available at www.knoxvilleyouthathletics.org.
Race Etiquette: Due to insurance regulations, roller blades, bicycles and dogs are not allowed on the 5K course. Headphones are strongly discouraged. Strollers are welcome!
Featured Posts