Event Details
One of our newest events is the Smoky Mountain Beer Run! A specialty train excursion featuring 3 samples of local craft beer on-board and a final sample when we stop off at the layover, at Innovation Station in Dillsboro, NC.
Every "Beer Run" has a fun theme to help get into the party mood but also makes every run unique and one of a kind. With craft beer and a themed menu to match, you'll be treated and transported as we cruise through the Smoky Mountains while enjoying a night in "Beer Country".
May 27, 2023 – Southern Summer Nights: A taste of the South and an Americana good time. Memorial Day weekend will be a great time to honor our roots, our troops and our freedom! Summer is just getting started and this will be the perfect kickoff.
June 17, 2023 – A Great Smokies Lū'au: The Aloha in the Smokies is here and ready to bring on the good vibes. Grab your fav Aloha shirt or grass skirt and hop on board to get lei'd and have some l'ale'a!
July 1, 2023 – A Foamin' Fourth!: Join us as we celebrate Independence Day, the only way we know how! The best craft beer around, a piece of American history still roaring along the tracks and a WHOLE LOT of Red, White & Blue. This is the best way to wet your appetite for a fun 4th of July weekend!
July 21, 2023 – 80's & 90's Night: Hop aboard our very own Hot Steam Time Machine and get ready for a blast from the past as we party like it's 1989. Come dressed to impress and ready to drink some beer! Mullets and Shoulder pads are welcome.
Schedule Details
Saturday, May 27, 2023
Saturday, June 17, 2023
Saturday, July 1, 2023
Friday, July 21, 2023
Location Details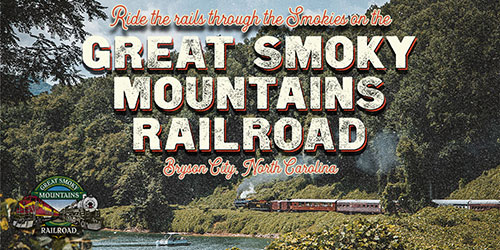 Great Smoky Mountains Railroad
226 Everett Street, Bryson City, TN 28713
Train excursions in the nearby forests of North Carolina. The most relaxing way to explore Appalachian beauty and experience small town charms. Imagine the era when small town folks traveled by rail. ...
Learn More →