We're sorry you missed it! This event has passed. Please click back to our
event calendar
for future occurrences.
Explore your creativity, add to your skills and pursue interests in the fiber arts. Twenty-seven new classes this year. The Festival focuses on the "sheep to shawl" concept – transforming fleece into finished goods and art pieces. Vendors offer demonstrations, supplies, tools, handspun and hand dyed yarn, and finished goods.
See the fiber on the hoof and foot–llamas, sheep, goats, and angora rabbits.
Class registration is open now. Register to learn basic skills and advanced techniques in classes, ranging from fiber preparation to weaving on multiple types of looms and felting, knitting, and crochet and dyeing with natural dyes.
Presented by the Townsend Artisan and the Tennessee Valley Handspinners Guilds. Sponsored by the Tennessee Arts Commission, Arts and Cultural Alliance of Knoxville, and Blount Partnership.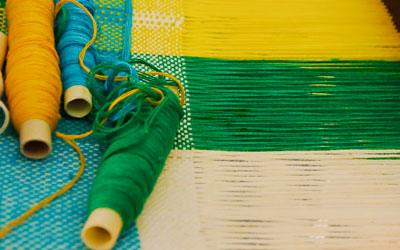 Where:
Great Smoky Mountain Heritage Center
Event Website