Event Details
Taylor Time is designed to be a low-sensory experience at Soaky Mountain Waterpark. A water park can be a very enjoyable experience for everyone, but there are times it can be overwhelming for some guests. The purpose of Taylor Time is to reduce sensory input in a controlled time and environment to give additional guests an opportunity to explore and enjoy Soaky Mountain Waterpark.
During Taylor Time:
Rides are contained to a section of the park focusing on attractions with low stress and can be done in tandem with caregivers and siblings
Music is left off until Taylor Time is over and will begin quietly increasing
Additional staffing in the areas to provide support in the form of information and direction
Guest capacity is restricted to 500 people to drastically reduce crowds and wait times
Soaky Surge, The Snake Den Tube Rides, and the Boomer's Bay children's area will be open
Taylor Time event ticket holders are welcome to stay for the remainder of the operating day. Please understand that the experience will not maintain low sensory after 10 am. We welcome Taylor Time event attendees to stay as long as they like that day.
The event ticket includes admission to the park during the Taylor Time hour and allows the ticket holder to enjoy Soaky Mountain Waterpark during operating hours on the day of the event. Parking, Food, Beverage, and Rentals are not included with this event ticket.
Schedule Details
Thursday, June 16, 2022
Thursday, June 23, 2022
Location Details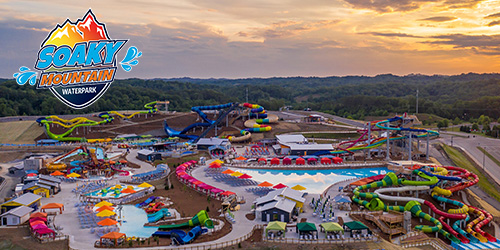 Soaky Mountain Waterpark
175 Gists Creek Rd., Sevierville, TN 37876
Soaky Mountain Waterpark is a 50-acre waterpark located in the heart of the Smoky Mountains. It opened in 2020 and includes the Avalaunch, a first-of-its kind watercoaster; Soaky Surge, a 35,000 sq. f...
Learn More →