There's a savory way to enjoy East Tennessee. Fine dining in Pigeon Forge tempts the tastebuds with flavors you won't find elsewhere! Whether you're planning a romantic meal out for two or a celebratory dinner for the whole family, many nice restaurants in Pigeon Forge offer an unmatched foodie experience.
Steakhouses in the Smokies
If you're like us, nothing says fine dining like an expertly prepared steak, maybe even with a flavorful glass of cab. Alamo Steakhouse is a long-time favorite for fine dining in Pigeon Forge, with hand-cut, house-seasoned steaks grilled over oak. Are you looking for an intimate experience? The Alamo Steakhouse location in Gatlinburg features a love nest with private dining for two.
Steakhouses
If this isn't your style, Gaucho Urbano offers a unique Brazillian steakhouse experience in a fine dining setting. The menu boasts hand-carved meets, harvest-fresh sides, delectable desserts, and spirited cocktails. Other fine dining in Pigeon Forge and Gatlinburg where you can enjoy a good steak include The Peddler Steakhouse and Cherokee Grill and Steakhouse.
Upscale Southern Dining
A trip to East Tennessee wouldn't be the same without a meal inspired by the region's rich soul food. You can enjoy decadent fine dining with true Southern style at some of the best restaurants in Pigeon Forge and the surrounding area. The Appalachian in Sevierville offers a flavorful exploration of the region with locally inspired dishes ranging from rainbow trout to dry-aged steaks. Dancing Bear Appalachian Bistro pays homage to local culture and cuisine with produce grown on-site and contemporary flavors in a warm, indulgent setting.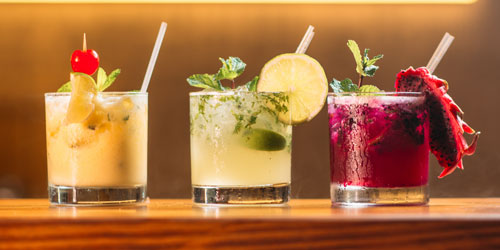 Craft Food & Drink Experiences
Fine dining doesn't always have to be fancy. Expertly crafted food and perfectly paired drinks offer an immersive experience that lets flavor truly take the stage. Several sophisticated spots showcase these perfect combinations here in and around Pigeon Forge. Peaceful Side Social in Townsend offers a chef-driven dining experience in a casual setting. The Abbey, also in Townsend, is another favorite destination for a craft dining experience. The menu here features a number of local brews and Smoky Mountain-inspired eats.
There are many other places in the Smokies to kick back and relax with a beverage in hand, too! Ready to enjoy a great meal in the Great Smoky Mountains? Visit any of the fine dining in Pigeon Forge above or browse even more restaurants to place your next delicious dining experience.