The Smoky Mountains are full of little hidden gems — destinations that are full of culture and deserving of your time and attention. The Great Smoky Arts and Crafts Community is one of these special places, tucked away off Highway 321 North in Gatlinburg.
Download The Map
Arts & Crafts In Gatlinburg
The Arts and Crafts Community spans an 8-mile loop, features over 100 artists and craftsmen, and is home to one of the largest groups of independent artisans in all of North America. The historic circle covers scenic mountain territory and showcases the region's rich cultural heritage and natural talents of generations of East Tennessee folks. Since 1937, the Great Smoky Arts & Crafts Community has been home to a community of artisans who inspire and awe visitors with their talents in fine and folk arts.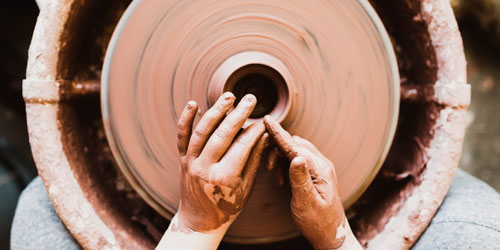 Gatlinburg Craft Trail
Along the trail, you'll meet artists who whittle, weave, cast and carve to create collectibles and trinkets. You'll see the creations of sewists, quilters, potters, and painters. You can take a trip back in time to simpler days by seeing and touching regional handicrafts like candles, willow and oak baskets, handmade brooms, natural leather goods, pottery, dolls, jewelry and more. See silversmiths, stained glass artists, scrimshaw workers and other artisans at work and showing off their skills.
In addition to the artists' workshop and retail outlets, the Arts and Crafts Community trail is dotted with other spots to experience Appalachian culture. Historic restaurants, tea rooms and candy shops are located along the path, opening their doors and welcoming all those who come to appreciate the region's rich culture and Smoky Mountain heritage.
Stop in any of the designated Arts and Crafts Community shops along the trail to see the fine work and be inspired by Smoky Mountain artists. Shops along the Heritage Arts and Crafts Trail are open year round. You might find some of these artisans at local arts and crafts shows in Pigeon Forge and Gatlinburg.
The Great Smoky Arts and Crafts Community is located off Highway 321 North, Glades Road/Buckhorn Road and the adjacent byways, just three miles from traffic light #3 in downtown Gatlinburg.