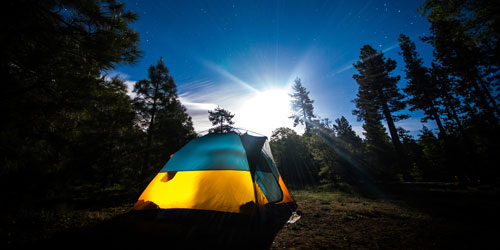 Frontcountry Camping
The Great Smoky Mountains National Park Service maintains developed camping in the Smoky Mountains at nine locations in the park. Frontcountry campsites can be found at Abrams Creek, Balsam Mountain, Big Creek, Cades Cove, Cataloochee, Cosby, Deep Creek, Elkmont, and Smokemont campgrounds. Camping at each location has restrooms with cold running water and flushable toilets, but there are no showers or electrical for water hookups in the park. Each individual campsite has a fire grate and picnic table.
From May 15th – October 31st Elkmont, Smokemont, and Cades Cove campsites may be reserved up to five months in advance. All other campgrounds are first come, first serve and up to six people may occupy a campsite. Two tents or one RV and one tent are allowed per site. Maximum stay during the summer and fall is seven days, but in the off-season, the stay can be fourteen days. Pets are allowed in the campgrounds as long as they are restrained on a leash or otherwise confined at all times. Quiet hours are from 10 p.m. until 6 a.m. Call 1-800-365-CAMP or visit the National Park Service Reservation Center online to make reservations for camping in the Smoky Mountains!
---
Frontcountry Campsites
Park campgrounds are frequented by bears and other wildlife. All food, coolers, utensils, stoves, etc. must be stored out of sight in a closed vehicle when not in use. Always remember not to throw food scraps or packaging in fire rings or to feed any wildlife. This is for both the safety of visitors and the health of the park's wildlife. There are seven areas for group camping in the park and you must have reservations to stay in these areas. The group camping areas are for tents only. Trailers, campers, or other wheeled units are not permitted. The minimum party size is eight, and the maximum length of stay is seven nights.
---
Backcountry Camping
Consider backcountry camping in the Smoky Mountains only if you are prepared to carry in all necessities! Backcountry campsites are for the avid backpacker. All backcountry campers are required to obtain a free backcountry permit. These are available at most ranger stations and visitor centers along with free backcountry maps showing all the hiking trails, camping areas, and a list of rules, regulations, and safety concerns. Remember to camp only in a designated site or shelter.
Campers need reservations to stay in any of the shelters. To make a reservation, call (865) 436-1231 during regular business hours. For backcountry information call (865) 436-1297 and for backcountry shelter reservations, call (865) 436-1231.
Always prepare before heading into the backcountry by getting a local weather forecast and be aware of the local climate. Proper clothing, food, water, and equipment are all musts. Food storage regulations are in place and should be followed for your safety.