History Of Cades Cove
Cades Cove was once a remote place in the Great Smoky Mountains. One of the few ways through the Smokies and into the cove was along Indian trails. Some of those trails were improved into roads. One of those trails was called, appropriately enough, Cades Cove road. The name was later changed to Rich Mountain Road. By either name the road was one of the main routes through the Smokies between Tuckaleechee and Cades Cove.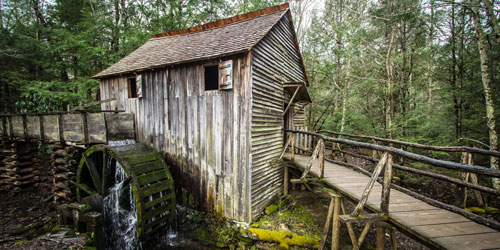 Rich Mountain Road has a number of famous views of Cades Cove and today's Smoky Mountain visitors face the temptation to travel up Rich Mountain Road to see those views. Smokies tourists may use the road but shouldn't unless they don't mind leaving Cades Cove before finishing the auto tour most of which lay beyond the roads turn off. Rich Mountain Road is a one way dirt road which exits The Great Smoky Mountain National Park after twelve mountainous miles.
Cove roads which went to Maryville through the Smoky Mountains could be difficult to travel for the Cades Cove population and their teams of horses. You see the trip to town and back took three days, one to go, one to buy or sell goods, or perhaps visit and one to come home again.
Though Cades Cove was generally a self sustaining community, pioneers bought things from Maryville such as medicine and remedies such as camphorated oil, catnip tea, Castor oil, or Epsom salts. As time went by, general stores such as the Giles Gregory store sprang up in Cades Cove where medicine, seeds, sugar, kerosene, yard goods and hardware supplies. Products could be purchased with money or by trading products such as eggs. Still, the larger town of Maryville had a more appealing selection and so the trips from the Cades Cove continued. If on a trip to Maryville, the family was selling rather than buying, chances are they were selling chestnuts which grew in abundance in Cades Cove. Unfortunately disease eventually killed the majestic chestnut groves.
Cades Cove was once known as "Kate's Cove" after an Indian chief's wife. The Cove drew the Cherokee Nation back again and again by its abundant wildlife and good hunting. Later, Cades Cove's wildlife drew European descent frontiersmen to make it their home. They and their offspring cleared the fertile valley floor and built farms to sustain them. The pioneer's families lived in Cades Cove for many generations before the cove became part of The Great Smoky Mountain National Park. Today, Cades Cove is still as full of wildlife as before but draws not hunters, but millions of Smokies visitors.
The Cove has been preserved by the Great Smoky Mountain National Park to look much the way it looked in the 1800's. Once home to a small mountain community, whose settlers came from mainly from Virginia, North Carolina and upper east Tennessee, Cades Cove is today the largest open air museum in the entire Great Smoky Mountain National Park. Cades Cove has original pioneer homesteads, barns, businesses, pasture and farmland--a fitting tribute to the hearty people who lived here in the days of yesteryear.
Cades Cove Loop
Most of the settler's homes and home sites will be outside of the road you as you travel the Cades Cove loop. To the center of the loop will be acre upon acre of grass and wildflower fields which were once cleared by frontiersmen for valuable for growing things such as wheat, corn and cattle. Nearly all the buildings built by the pioneers and preserved by the Great Smoky Mountain National Park are outside the Cades Cove Loop. These remaining original structures, as well as abundant wildlife, are easy to spot as you travel the loop.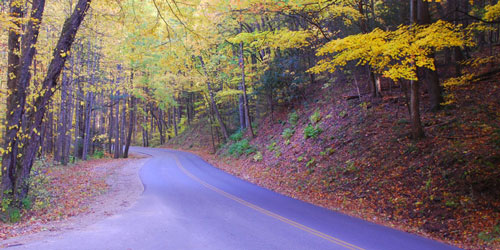 Blacksmith Shop
Every farmer in the Smokies needed the talents of a blacksmith and so when James V. Cable, son of John P. Cable inherited the mill and farm from his father, he decided to also become a blacksmith. Perhaps he was inspired to do this because of the many people bringing grain and logs to be milled by means of wagons drawn by mules and horses. Once the products were milled, it was more convenient for his customers to also have their animals shod rather than traveling somewhere else.
To reset the shoes of Cades Cove's horses, the blacksmith had to nip the nail ends off and then pull the horses shoes off. Next he had to trim the hoofs down as they grow like fingernails. Last the blacksmith had to either reset the old shoe or make new shoes for the animal. This involved heating metal until it was white hot and shaping it into a shoe.
Aside from shoeing horses, the Smoky Mountain blacksmiths made all sorts of metal products for the home, farm and light industry. Other products made by blacksmiths might include plows, nails, adzes, axes, chains, hinges, bolts, hammers, hoes, bits, hooks, broadaxes, kitchen knives and drawknives. For these services, the blacksmiths of Cades Cove were certainly welcome and well respected for their skills.
Cades Cove Missionary Baptist Church
In Cades Cove as in the rest of the Smokies, Baptists were divided into camps of members who supported missionary work, temperance societies and Sunday schools and those that didn't. Some thought there was no Biblical support for those things. In the end, a number of Cades Cove Baptists were eventually dismissed from the original Baptist church for their beliefs including Johnson Adams who was pastor. On May 15, 1841, Adams and other disenfranchised Smokies pioneers finally banded together and established the Cades Cove Missionary Baptist Church.
The start was rocky. They had no meeting house and had to meet in individual homes. Sometimes they made arrangements to meet at the Primitive Baptist or Methodist church buildings. Also, in the Smokies there was much confusion over the Civil War. During the Civil War and reconstruction, the Missionary Baptists didn't meet for long periods of time. After the war however, they had a particularly successful revival and were able to erect their own church building in the Cades Cove area of the Smoky Mountains. Their church was constructed on Hyatt Hill in 1894, with their rolls bulging with 40 members. Eventually the rolls grew to over one hundred. In 1915, a new building was needed and was created in the present location.
Biking Cades Cove
The 11-mile one way road is a popular biking area. It provides bicyclists with excellent opportunities for wildlife viewing and touring 19th century home sites. During summer and fall, bicycles may be rented at the Cades Cove Campground Store (located near Cades Cove Campground). For information call (865) 448-9034.
Hiking, Camping and Picnicking in Cades Cove
There are many hiking trails in Cades Cove, from the five-mile roundtrip trail to Abrams Falls and the shorter Cades Cove Nature Trail. to longer hikes like Thunderhead Mountain and Rocky Top. Picnic areas are also located along many of the trails in the Great Smoky Mountains. Cades Cove picnic area is open year round and there are over 80 sites for your picnic. Don't forget to clean the tables, grill and ground thoroughly after your meal to help keep the wildlife safe. There are also many backcountry camping sites along these trails, but a permit is needed to make use of them. For more information you can visit the National Park Service's Cades Cove web page.
There is also a 159 site campground that can accommodate tents and RV's up to 35 feet.. Another option is the Anthony Creek Horse Camp. The horse back riding makes access to the backcountry much easier and enjoyable. For more information about camping and horse back riding in Cades Cove, call (877) 444-6777.
Horseback Riding in Cades Cove
The Cades Cove Riding Stables offer guided horseback tours on scenic park trails from the middle of the month of March until November. Most rides last from the shorter 45 minute trail ride to several hours and all rides are taken at a walking pace. Rates for these guided horseback tours are between 20 and 25 dollars and reservations can be made by calling (865) 448-9009.
Hayrides
Cades Cove Riding Stables also offers hayrides around Cades Cove Loop Road. Passengers sit in a trailer on a bed of hay and enjoy the outdoors and fresh air through out the duration of the one and a half hour trip. The going rate for these hayrides is $6.00 per person and reservations are usually needed in advance. You can reserve your spot by calling Cades Cove Riding Stables at (865) 448-9009.
Wildlife Viewing in Cades Cove
Some parts of The Great Smoky Mountains are covered with thick brush and dense forest and are not suitable for wildlife viewing. However, open areas like Cades Cove offer oppurtunistic conditions to view Smokies wildlife. Many common animals seen around the Cades Cove area include white-tailed deer, black bear, raccoon, turkey, and woodchucks. A good rule to follow when viewing the wildlife of the Smoky Mountains is that if an animal changes its behavior, you are too close and it is a good idea to back up a large distance until the animal resumes their natural activities. Feel free to take as many pictures as you like to keep as reminders, but Federal Regulations state that "Willfully approaching within 50 yards (150 feet), or any distance that disturbs or displaces bear or elk is prohibited." also, " feeding, touching, teasing, frightening, or intentionally disturbing wildlife is prohibited." Don't forget that even though they may sometimes look docile, these are still wild animals, and interacting with them can cause safety concerns for both you and them. Feeding of a wild animal almost always results in its demise, so please don't feed the bears or other wild animals while nature viewing in the park.
Cades Cove Visitor Center
The Cades Cove Visitor Center is an excellent palce to learn about the histroy of Cades Cove. Located near the mid point of the eleven mile Cades Cove loop, the visitor center is open 364 days a year, only closing on Christmas Day. There are many indoor and outdoor exhibits that showcase the Southern mountian life style. Included in these exhibits are an operating grist mill and the Becky Cable House. There are also seasonal ranger-led activities that anyone can bea part of, and a book store and shop.
Where is Cades Cove?
The best way to reach the 11-mile Cades Cove Loop is from Laurel Creek Roach. You can also reach it from Parson Branch Road or Rich Mountain Road, but they are usually closed in the winter. It will take about two to four hours to complete a tour around the Cove's one-lane road, but the scenery is worth a leisurely pace with frequent stops.
Shuttle Tours in Cades Cove
Cades Cove Heritage Tours has started the first-ever guided educational shuttle service through Cades Cove. To improve traffic condition and air quality, the public will now be able to get a guided shuttle tour through the 11-mile loop.
Visitors who take a tour with us will not only learn about the rich mountain history and unique natural resources of Cades Cove but will also feel good about how their choice affects the environment of the Great Smoky Mountains National Park. Alex Roche, Cades Cove Heritage Tours
The shuttles are 18-passenger fuel efficient vehicles. Public tours cost $20 per person. The tours depart at 1:30 PM from the Heritage Center in Twonsend and advance reservations are required. For more information on touring cades cove visit http://www.cadescoveheritagetours.org/