Cades Cove is a scenic 11-mile loop in the Great Smoky Mountains National Park. It has a long, rich history that is still standing for exploration by visitors today. Cades Cove loop is open to visitors from sunrise to sunset daily, with a special "Vehicle-Free Wednesday" during the summer to allow for bikers and hikers to enjoy the loop safely. Read on to learn more about Cades Cove, including information on the area's location, history and landmarks.
Where is Cades Cove?
The best way to reach the 11-mile loop is from Laurel Creek Roach. You can also reach it from Parson Branch Road or Rich Mountain Road, but they are usually closed in the winter. It will take about two to four hours to complete a tour around the Cove's one-lane road, but the scenery is worth a leisurely pace with frequent stops.
Cades Cove History & Information
Visitor Center
The Cades Cove Visitor Center is an excellent place to learn about the history of Cades Cove. Located near the midpoint of the eleven mile Cades Cove loop, the visitor center is open 364 days a year, only closing on Christmas Day. There are many indoor and outdoor exhibits that showcase the Southern mountain lifestyle. Included in these exhibits are an operating grist mill and the Becky Cable House. There are also seasonal ranger-led activities that anyone can be a part of, and a book store and shop.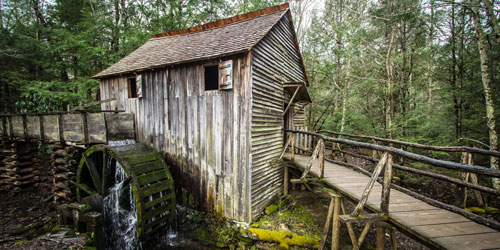 History Of The Cove
Cades Cove was once a remote place in the Great Smoky Mountains. It was once known as "Kate's Cove" after an Indian chief's wife. The Cove drew the Cherokee Nation in again and again with it's abundant wildlife and good hunting. Beginning in the 1820's, Europeans settled in the Cades Cove valley and created a self-sustaining community. The settlers built homes, barns, churches, schoolhouses and more as the population grew.
The land was rich and fertile, creating the perfect environment for farming and growing crops. Though the Cove was generally a self sustaining community, pioneers bought things from Maryville such as medicine and remedies such as camphorated oil, catnip tea, castor oil, or epsom salts. As time went by, general stores such as the Giles Gregory store sprang up in Cades Cove where medicine, seeds, sugar, kerosene, yard goods and hardware supplies. Products could be purchased with money or by trading products such as eggs. Still, the larger town of Maryville had a more appealing selection and so the trips from the Cades Cove continued. If on a trip to Maryville, the family was selling rather than buying, chances are they were selling chestnuts which grew in abundance in Cades Cove. Unfortunately disease eventually killed the majestic chestnut groves.
Cades Cove Purchased By The National Park Service
In 1927, the states of Tennessee and North Carolina were well underway in purchasing land that would eventually become the Great Smoky Mountains National Park. It was at this time that they purchased the land north of Cades Cove. The National Park Service worked with residents to purchase their land for the park and were for the most part widely successful.
Some residents were not eager to sell their land to the National Park Service. Several went to court to fight for their land, while others signed life-leases that gave them the right to live on the property for the rest of their lives. This lease gave residents less money for their land and placed them under rules and restrictions set by the NPS. In the 1940s, the community in Cades Cove had largely dispersed or passed away. Functioning buildings like schools and post offices closed. Beginning in 1945, the National Park Service gave Cades Cove a "historical area" designation and began restoring the area.
The Cove has been preserved by the Great Smoky Mountain National Park to look much the way it looked in the 1800's. Today, the Cove is the largest open air museum in the entire Great Smoky Mountain National Park. Cades Cove still has original pioneer homesteads, barns, businesses, pasture and farmland that serves as a fitting tribute to the hearty people who lived here in the days of yesteryear.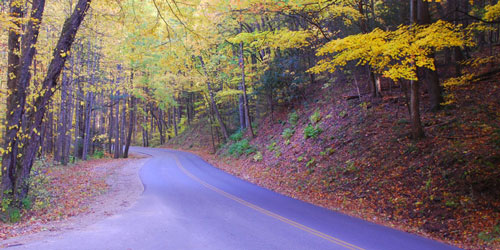 Cades Cove Loop Today
Nearly all the buildings built by the pioneers and preserved by the Great Smoky Mountain National Park are outside the Cades Cove Loop and accessible by trails. The center of the loop is acre upon acre of grass and wildflower fields that were once cleared by frontiersmen for growing things such as wheat, corn and cattle. These remaining original structures, as well as abundant wildlife, are easy to spot as you travel the loop.
Recreation, Tours & More
Biking The Loop
The 11-mile one way road is a popular biking area. It provides bicyclists with excellent opportunities for wildlife viewing and touring 19th century home sites. During summer and fall, bicycles may be rented at the Campground Store (located near Cades Cove Campground). For information call (865) 448-9034. New in 2020, the Cove is vehicle-free on Wednesday, making it even safer for you to enjoy the Cove on foot or by bike.
Hiking and Picnicking
There are many hiking trails in Cades Cove, from the five-mile round-trip trail to Abrams Falls and the shorter Cades Cove Nature Trail. to longer hikes like Thunderhead Mountain and Rocky Top. Picnic areas are also located along many of the trails in the Great Smoky Mountains. The Cades Cove picnic area is open year round and there are over 80 sites available. Don't forget to clean the tables, grill and ground thoroughly after your meal to help keep the wildlife safe.
Cades Cove Campground
The Cades Cove Campground has tent and RV sites for camping for just $25 per night. These sites book up well in advance, so be sure to reserve online as soon as possible. There are also many backcountry camping sites along these trails, but a permit is needed to make use of them. For more information you can visit the National Park Service's web page.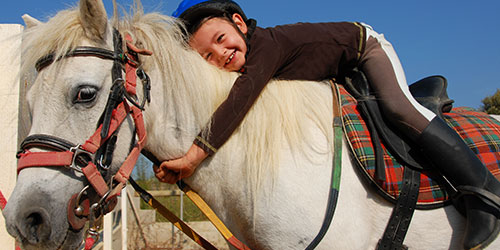 Cades Cove Riding Stables
The Cades Cove Riding Stables offer guided horseback tours on scenic park trails from the middle of the month of March until November. Most rides last from the shorter 45 minute trail ride to several hours and all rides are taken at a walking pace. The stables also offer hayrides around the Loop. Learn more about rates and reservations by calling (865) 448-9009.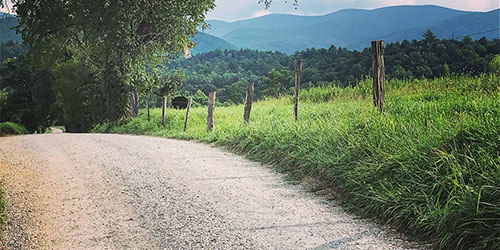 Wildlife Viewing in Cades Cove
Open areas like the Cove offer opportunistic conditions to view Smokies wildlife. Many common animals can be seen in the area include white-tailed deer, black bear, raccoon, turkey, and woodchucks. A good rule to follow when viewing the wildlife of the Smoky Mountains is that if an animal changes its behavior, you are too close and it is a good idea to back-up a large distance until the animal resumes their natural activities.
Feel free to take as many pictures as you like to keep as reminders, but Federal Regulations state that "Willfully approaching within 50 yards (150 feet), or any distance that disturbs or displaces bear or elk is prohibited." also, " feeding, touching, teasing, frightening, or intentionally disturbing wildlife is prohibited." Don't forget that even though they may sometimes look docile, these are still wild animals, and interacting with them can cause safety concerns for both you and them. Feeding of a wild animal almost always results in its demise, so please don't feed the bears or other wild animals while nature viewing in the park.
Shuttle Tours
Double Decker Bus Tours has begun offering a sunset tour of the Cove in one of their small shuttles. The tours are 3 hours long and allow you to sit back, relax and leave the driving to the pros while you enjoy the beautiful views, historic buildings and serene environment of the Cove. The shuttles will load in between the Hard Rock Cafe & WonderWorks in Pigeon Forge. Book online for your next trip.
More Info