At 6,643 feet, Clingmans Dome is Great Smoky Mountains National Park's highest point. It is the highest point in Tennessee. Clingmans Dome is a popular park destination. Located along the state-line ridge, it is half in North Carolina and half in Tennessee. The peak is accessible after driving Clingmans Dome Road from Newfound Gap, and then walking a steep half-mile trail. A paved trail leads to a 54-foot observation tower. The Appalachian Trail crosses Clingmans Dome, marking the highest point along its 2,144 mile journey.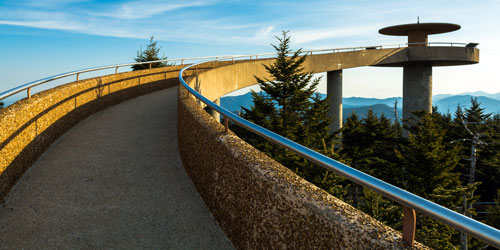 Views From Clingmans Dome
Vistas from Clingmans Dome are spectacular. On clear, pollution-free days, views expand over 100 miles and into seven states. However, air pollution limits average viewing distances to 22 miles. Despite this handicap, breathtaking scenes delight those ascending the tower. It is a great place for sunrises and sunsets. Cloudy days, precipitation, and cold temperatures reveal the hostile environment atop Clingmans Dome. Proper preparation is essential for a good visit. Weather conditions atop Clingmans Dome change quickly.
Snow can fall from anytime between September and May. Get a current weather forecast before heading to the tower. Temperatures at Clingmans Dome can be 10 – 20 degrees cooler than its low lying surroundings, so be sure to bring a jacket and dress in layers, even in the summer. The drive to the end of Clingmans Dome, which ends in a large parking area adjacent to the 0.5 mile hiking trail, is seven miles long with scenic pullouts along the way. There are wonderful views of valleys and ridges as well. The 0.5 mile hiking trail at the end of the road takes you to an observation tower, the path is paved yet steep.
Although Clingmans Dome is open year-round, the road leading to it is closed from December 1 through March 31, and whenever weather conditions require. People can hike and cross-country ski on the road during the winter.
Where Is Clingmans Dome?
Directions: Turn off Newfound Gap Road 0.1 mile south of Newfound Gap and follow the 7-mile-long Clingmans Dome Road to the large parking area at the end.