The Foothills Parkway has been under construction since 1944, but has been stalled numerous times for funding, making it the oldest unfinished highway project in Tennessee. The latest addition, known as The Missing Link, was completed at the end of 2018.
Foothills Parkway History
When it was authorized by congress in 1944, the original plan for the parkway consisted of 8 sections. Construction began in the 60s, and by 1968 sections A (5.6 miles), G (10 miles) & H (6.9 miles) were opened to the public. The project was heavily stalled in the 1970s due to funding cuts. Construction began again in 1984 on the sections between Walland and Wears Valley, but again was halted due to environmental issues.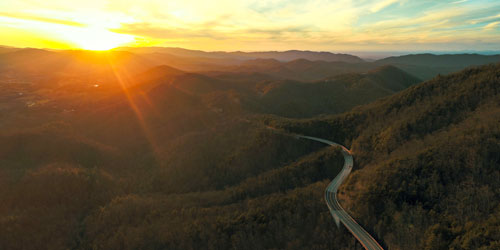 The Missing Link
The Missing Link was the result of halted construction on the 9.7 mile stretch from Wears Valley to Carr Creek in the 1980s. A new design was developed in the 90s by the FHWA to complete this 1.65 mile stretch of unfinished road by using walls, bridges, and fills. Construction started back up in the early 2000s and was completed 18 years later. Today the Missing Link is connected by a series of nine bridges.
We are grateful to the visionaries in the 1930s who conceived the idea of a parkway and to the countless people who have tirelessly worked since then to complete this spectacular section. We can't wait for people to experience the unparalleled views offered along this new Smokies destination.

Cassius Cash, GSMNP Superintendent
Foothills Parkway Today
Upon completion of the 16 mile stretch between Walland and Wears Valley (western section of the parkway) in November 2018, motorists can now enjoy a beautiful 33 mile drive from Chilhowee Lake to Sevier County. The eastern section consists of 5.6 miles from Cosby to Interstate 40. Construction on the remaining sections is currently unfunded, leaving the future of the parkway undetermined. It is known as one of the most beautiful drives in the Smoky Mountains.