At 6,593 feet, Mount LeConte is the third highest peak in The Great Smoky Mountains National Park, behind only Clingmans Dome and Mount Guyot. It is however, from top to bottom, the tallest mountain in the Eastern United States, rising 5,301 feet. It also has four subpeaks. West Point, High Top, Cliff Tops, and Myrtle Point, all of which rise above 6,000 feet.
Tallest Mountain In The East
In addition to being the tallest mountain in the Eastern U.S., Mount LeConte also boasts having the highest inn providing overnight lodging for visitors in the Eastern United States. Established in 1925, LeConte Lodge is a small resort, which started as a large tent, then a single cabin, and now today it has a series of small cabins which can accommodate approximately 50 guests and is open from May to November.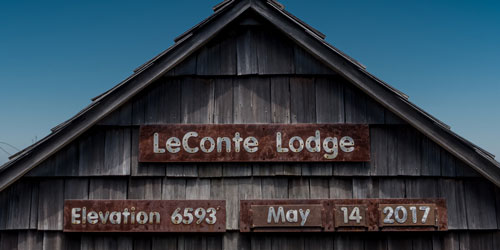 LeConte Lodge
The weather at the lodge is similar to that of Southern Canada, with cool summers, no temperature over 80 degrees has ever been recorded there, and very cold snowy winters. The lodge is owned and operated by Stokely Hospitality Enterprises. LeConte Lodge is a concession of the National Park system. For reservations call the Lodge at (865) 429-5704. All guests wishing to stay at the LeConte Lodge must hike, as there is no transportation or road ways which ascend the mountain.
Hikes To LeConte Lodge:
Alum Cave Trail - 4.9 miles, the most scenic of the five trails and most often used. Alum Cave Creek, Arch Rock, Alum Cave Bluff, and Views of Huggins Hell are along this trail.
The Boulevard Trail - 5.4 miles, This trail begins on the crest of the Smokies and never drops below 5,500 feet.
Bullhead Trail - 6.9 miles, This is the least traveled trail and good for those wishing solitude.
Rainbow Falls Trail - 6.6 miles, LeConte Creek runs along side this trail before turning into Rainbow Falls, the highest falls in the park.
Trillium Gap - 8.9 miles, This trail gives the hiker the opportunity to pass behind Grotto Falls, and also has the only horse trail on the mountain. If this hike is started at the Trillium Gap parking lot, the hike loses 2.4 miles, making it only 6.5 miles.
Hiking To LeConte
With the traffic on these five trails, Mount LeConte is one of the most traveled mountains in the park. Alum cave and Rainbow Falls tend to have most of the traffic, and hikers get rewarded with wonderful views just a few miles into the hike. As these are the only ways to ascend Mount LeConte, supplies are delivered to the Lodge by either helicopter, or by llama train, via Trillium Gap's horse trail.
Where is Mount LeConte?