The Smokies offer activities for visitors of various ages and interests. Recommended nature activities include camping, hiking, picnicking, sightseeing, fishing, horseback riding, and nature viewing. There are also opportunities for ranger-guided programs. Great Smoky Mountains National Park is the largest federally protected upland landmass east of the Mississippi. It is also the only free national park!
History Of The Park
Among the oldest mountains in the world, the Smokies formed perhaps 200-300 million years ago! This mountain range, which is part of the Appalachians, is unique in its northeast to southwest orientation. Species have migrated along these ancient slopes during climactic changes such as the last ice age. Because the Smokies have been relatively undisturbed by glaciers or ocean inundation for over one million years, the species present in this refuge have diversified extensively.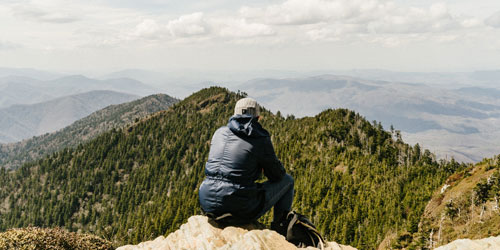 Diversity
With almost ninety-five percent of the national park forested, some 100 species of native trees, as well as over 1,400 flowering plants and at least 4,000 nonflowering plants find homes in the Smokies. The Great Smoky Mountains National Park always offers interesting sites. It is the center of diversity for lungless salamanders and is home to over 200 bird species, 66 types of mammals, 50 native fish species, 39 varieties of reptiles, and 43 species of amphibians.
Because of this diversity and the plentiful natural resources these species thrive on, the United Nations considers Great Smoky Mountains National Park to be an International Biosphere Reserve. During wet years, the park recieves over eight feet of rain fall in the high elevations. High humidity during summer months and abundant rainfall make this preserve a temperate rainforest!
Smoky Mountain Wildflowers
Spring and fall in these mountains bring thousands of visitors to view the beautiful wildflowers and spectacular displays of changing leaves. Year round, the hills of East Tennessee reveal amazing flora. The following plants are often seen or searched for in the Smoky Mountains.
Smoky Mountain Wildflowers
Eastern Hemlock
A tree that most visitors see while exploring the Smoky Mountains is the Eastern Hemlock. A nonnative pest, the Hemlock Woolly Adelgid, now threatens this conifer. The white specs visible in the photograph are this tiny creature. A relative to the Balsam Woolly Adelgid, which has destroyed much of the Fraser Fir population located in the higher elevations of the park, this tiny Asian aphid-like insect fears no native predators. It continues to spread down the eastern coast.
Currently, the most promising control for these tiny insects is yet another Asian immigrant: Pseudoscymnus tsugae (Pt), a beetle. Luckily, cold temperatures during Winter 2013-2014 killed most of the hemlock woolly adelgid population. The especially cold winter freeze also slowed the reproductive rate of the invasive species. The University of Tennessee Institute of Agriculture has established a Pt beetle raising laboratory, and our hopes are with them in their success.
Mountain Laurel
Mountain Laurel provides hikers with beautiful views of deep green woods with light flowers beginning in early May and continuing through June. Many visitors confuse this shrub with Rhododendron. The simple way to distinguish these two dark green, waxy shrubs is by the size of their leaves. Mountain Laurel is, as a whole, a smaller plant. Its leaves, stature, and flowers are all smaller than Rhododendron, but the largest difference is visible in the leaves.
Rhododendron
The Rhododendron found in the Great Smoky Mountains begins to bloom in June; Rosebay Rhododendron can still be found at mid elevations in July. Rhododendron has larger flowers that range from darker shades of pink to white. If you see a large shrub with colorful blooms, you can assume it is rhododendron of one variety or another.
Flame Azaleas
Flame azalea, yet another spectacular site in the Smokies, blooms at lower and mid elevations in April and May and can be seen at higher elevations such as Gregory Bald or Andrews Bald in late June and early July.
Flame Azaleas
Other Wildflowers
Spring wildflowers such as trillium, lady slippers, dwarf iris, jack-in-the-pulpit, and countless others begin appearing in early spring in order to beat the summer foliage which shades the ground throughout most of the year. No matter what season you visit the park, be prepared for a colorful display of flowers and trees! A small wildflower book, purchased before your visit or in the bookstore at Sugarlands Visitor Center, is sure to help you with viewing locations as well as identification.
Fall Foliage
Fall brings with it a spectactular display of fall foliage colors. With the changing of yellow birch, American beech, mountain maple, hobblebush, and pin cherry in September, on to the sugar maple, scarlet oak, sweetgum, red maple, and the hickories in Mid-October to November. Some areas are better for viewing the fall colors and they will most likeley be the busiest. Spots like Cades Cove and Newfound Gap Road get especially busy this time of year due to their beautiful views and will most likely experience traffic delays.
The Great Smoky Mountains National Park welcomes visitors with a myriad of breathtaking sites. From fascinating animals to beautiful wildflowers, you must plan some time for a visit in the mountains as part of your Pigeon Forge vacation!