Because the Great Smoky Mountains is the most visited national park in the country, it is imperative that visitors respect the park rules and federal policies put in place for best conduct. In 2020 the national park maintained its record of most-visited with over 12 million visitors. In 2021 the park shattered its previous record with more than 14 million visitors. The more people who show our mountains the respect they deserve, the longer we will all be able to enjoy them.
Graffiti on a fence post at the Gatlinburg Overlook
Graffiti & Vandalism
According to the Code of Federal Regulations, the destroying, injuring, defacing, or damaging property in the national park is strictly prohibited. However, it is sadly one of the most common offenses in the Great Smoky Mountains. On the park's most popular trails and around overlook areas you are bound to see examples of this sort of destruction.
Stickers at the Gatlinburg Overlook
A heart painted on a post
A scratched signature into the Lake View Drive entrance
Crystal claims to be the first person to sign this rock
Graffiti along a river on one of the park roads
Instagram handles at a backcountry shelter
Red spray paint on a tree
Giant vandalized rock on the Foothills Parkway
Completely vandalized educational sign
Immense graffiti walls at The Road To Nowhere
The Road To Nowhere
The Road To Nowhere
Poorly spelled etching in the Mt. Cammerer fire tower
Park Ranger scrubbing paint off a boulder on Bullhead Trail
Signatures on a hemlock stump on Rainbow Falls Trail
A hole kicked into the wall of a recently restored Elkmont building
What counts as vandalism? Painting, drawing, scratching, or deliberate writing of any kind on any surface (fences, rocks, trees, signs, etc.) in or around the national park is vandalism. Permanent placement of "love locks" or padlocks of any kind is vandalism. If it wasn't there before you arrived and you placed it there, it's probably vandalism. Defacing park property could result in a fine up to $5,000 and 6 months of jail time.
For more serious vandalism, where the act results in a felony charge, vandals can expect to serve time in state prison and receive hefty fines. Since there is no reward for vandalism, but the punishments are significant, it's hard to understand why anyone would choose to deface or damage property that is not their own.

Zion National Park, Vandalism Harms our National Parks
A pile of junk that someone decided was too heavy on Noland Divide Trail
Littering
It's a very simple rule: leave no trace. If you are planning on visiting the national park, especially on hiking trails or areas with active wildlife, plan on bringing a trash bag in your backpack to stow your trash until you reach an appropriate place to permanently dispose of trash safely outside the park. In 2021, volunteers from the nonprofit organization Save Our Smokies removed nearly 10,000 pounds of trash from the overlooks and roadways alone, in less than half of the national park.
What counts as littering? Just like with vandalism, if it wasn't there when you arrived and you left it there, it's littering. Common items left behind from our millions of annual visitors include but are not limited to: candy and food wrappers, cigarette butts, feminine products, dirty diapers, paper and plastic dishware, apple cores, tires, mattresses, car parts, appliances, alcohol containers, improperly disposed of human remains, food tossed out at animals, and countless other examples of things that you might find in your garbage can at home. Park rules say if you pack it in, pack it out.
No Poaching Wildflowers
Every spring in the Smoky Mountains brings visitors with a desire to explore the park's hiking trails to see the beautiful, vast, and unique collection of wildflowers. And every year, both overjealous gardeners and commercial poachers take a serious toll on the park's natural residents by digging up and taking home these flowers.
Wildflowers
Why shouldn't you take wildflowers? If the phrase because it's illegal doesn't convince you, consider that most of these species grow in this habitat for a reason. They have delicate symbiotic relationships with the earth around them and rarely survive transplanting. Especially for plants with low reproductive rates (like orchids), the future of many of these species seems bleak. It is important to respect not only the park rules but the sanctity of this international biosphere's balanced relationship between people and nature.
If you observe people digging up plants in the park, report the activity to the nearest ranger station or call (865) 436-1230. [From NPS]
Don't Approach Wildlife
Black bears aren't the only creatures in this biosphere reserve; the Smokies are a critical sanctuary to 65 mammal species, over 80 types of reptiles and amphibians, and many other types of critters. Human intervention is one of the biggest reasons many species are now threatened or endangered. When you see wildlife in the national park, make sure you observe from a distance of at least 50 yards.
Wildlife
WARNING: Willfully approaching a black bear within 50 yards (150 feet), or any distance that disturbs or displaces a bear, is illegal in the park. Violation of this federal regulation can result in fines and arrest. Use binoculars, telephoto lens, or a spotting scope to view the animals. [NPS]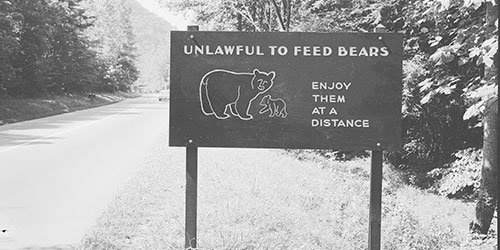 Did You Kill This Bear?
Biologists estimate the density of American black bears in the national park to be about two bears per square mile. It's possible that you've seen a sign in the national park that reads Did You Kill This Bear? The educational piece explains that feeding a bear guarantees its demise. Leaving garbage and food waste teaches bears that humans are a source of food, and over time these bears lose their fear of humans and may approach them in search of such. When bears attack humans, they are euthanized.
This is just an overview of the most frequently violated important park rules in our beloved Smokies. You can read more about all the relevant laws and policies enforced in the Great Smoky Mountains National Park on the national park website.