Pigeon Forge Bike Trails: Pigeon Forge Riverwalk Greenway
The main pigeon forge bike trails, known as the Pigeon Forge Greenway, run alongside the Little Pigeon River. Pigeon Forge Greenway Trail stretches four miles and connects one end of town to the other. Three main entrances onto the bike trail can be found at Patriot Park, Jake Thomas Road, and Butler Street at Ashley Avenue. This trail is great for running and walking and cycling. The entrance at Butler Street and Ashley Avenue has park benches, a water fountain, and a memorial dedicated to former City Commissioner, English McCarter.
The unparalleled scenic beauty of the Great Smoky Mountains draws visitors from around the world – especially cycling enthusiasts. The switchback curves and panoramic vistas of the mountain roads challenge skilled riders. Lazier, meandering greenways and river trails offer families the opportunity to enjoy the natural wonders of Pigeon Forge, Gatlinburg, Sevierville, and neighboring localities. If a bike riding tour during your Smoky Mountain vacation is on your list – and it should be -- read on.
Rent A Bike Or Bring Your Own
Many visitors plan a vacation specifically to navigate the roads and pathways of the region on their bicycle. These rugged adventurers travel with bike and gear in tow. If you are a more spontaneous sort and choose to take a day to get up close and personal with the great outdoors on a bike, there are a number of local rental facilities to turn to. Pigeon Forge, Gatlinburg and Sevierville offer equipment rentals available for a couple of hours a day or for an entire week.
Mountains, Roads & Trails
The color and beauty of the mountain roads represent some of the most spectacular bicycling opportunities in the world, but you don't have to bike in the Smokies for those great views. Cycling around town can offer the same enchanting opportunities. When cycling closer to town, the narrow passes, steep elevations, curving inclines, limited shoulders, and heavy vehicle traffic make some road biking more cautious and not recommended for an inexperienced rider. However, there are many trails, parks, and greenways in town that are suitable for the casual rider of any age. For those who want a nice variety, you can bike in town or in the few areas within the Great Smoky Mountains National Park that permit bicycle riding also. Tracks approved for bicycling are clearly posted.
The Gatlinburg Trail
A 1.9 mile, enchanting path through the forest, along the banks of the Little Pigeon River, and across the pedestrian bridge. Dogs are not allowed in the Smokies, so this trail gives bike riders a chance to still go on a trail-like adventure with their four legged friends.
Greenbrier
A 6-mile gravel road transports visitors to the Ramsey Cascade trailhead along the Porter Creek trail, the hiking trails are not open for bicycles but the road provides a wealth of natural beauty and is a popular, leisurely route for cyclists.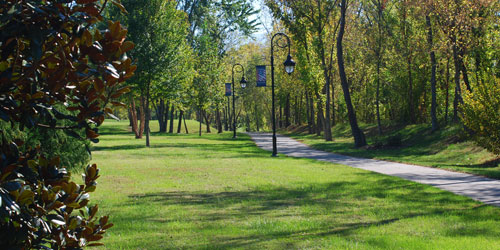 Riverwalk Greenway
The 4-mile nature trail beginning at Patriot Park in Pigeon Forge offers a great place for the whole family to enjoy riding along the east bank of the Pigeon River. Both the Riverway Greenway and The Plaza at Butler and Ashley are great places to bike in the community with the whole family.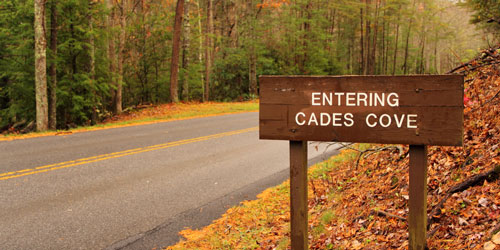 Cades Cove Loop
The 11-mile one way road is a popular biking area. It provides bicyclists with excellent opportunities for wildlife viewing and touring 19th century home sites. During summer and fall, bicycles may be rented at the Cades Cove Campground Store (located near Cades Cove Campground). For information call (865) 448-9034.
Safety First
Your vacation to the Pigeon Forge, the Great Smoky Mountains and surrounding areas should be an exciting, enjoyable time filled with wonderful memories. To ensure a great experience practice a few safety precautions – especially when cycling.
Obey traffic signs and signals. State law requires bicycles follow the road rules of all other vehicles on public roads.
Always ride with traffic –NEVER against oncoming vehicles.
Follow lane markings – ride in designated lanes, use correct turn lanes, obey "one-way" and "no-entry" posts.
Never pass on the right side of a vehicle.
Keep watch behind you for oncoming traffic.
Keep both hands on the handlebars and ready to brake.
Always wear a helmet.
Do not ride with headphones.
Use hand signals to indicate turning and stopping.
Use lights at night – wear reflective clothing and helmet.
Dress for the weather. Wear padded gloves and appropriate shoes to protect feet. Layer clothing and take a poncho.